19th July 2022
Top 12 Products for Rosacea in 2022
Dr. Devan Patel, PharmD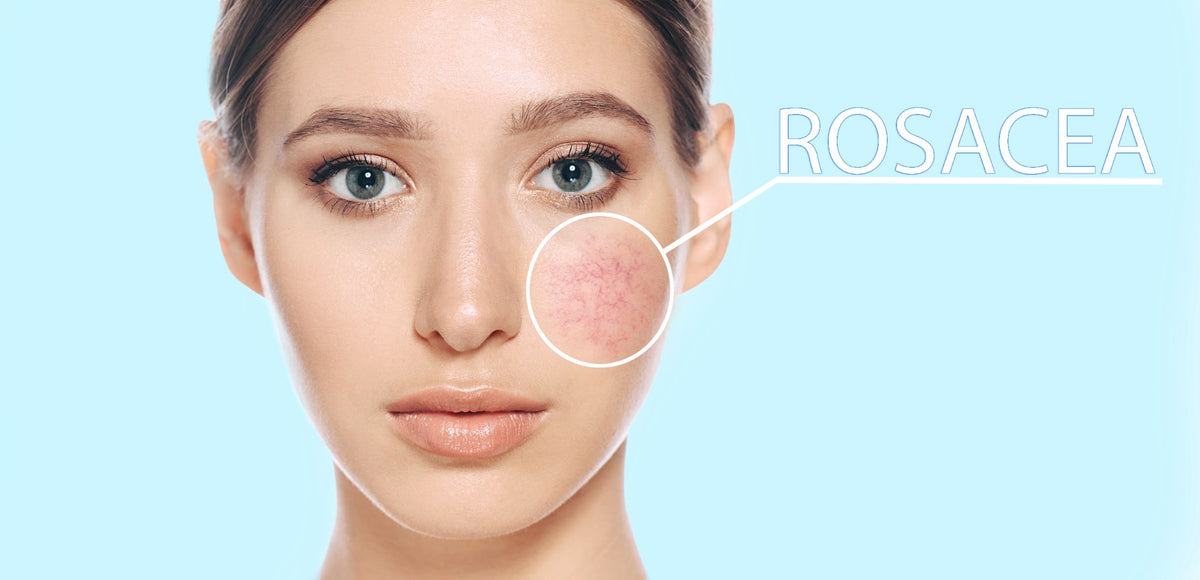 If you're one of the 16 million Americans suffering from rosacea, you've had your share of frustration with its symptoms. Rosacea causes patches of red, dry, irritated skin that commonly manifests on the face around the nose and cheeks. 
Rosacea is most common in women over 30 who have fair skin, but it can afflict any one of any gender or races. Rosacea flare-ups can be unsightly and, in some cases, slightly painful (due to dry skin or burning sensation). Currently, there is no known cause of or cure for rosacea but there have been skin products developed to manage symptoms. Looking for skincare products that will help to soothe your dry, red, irritated skin?
Below, we will review the top 12 products for rosacea and why they might work well for your symptoms.
Azelaic acid is a naturally occurring acid found in some wheat and grain products. It's a powerful antimicrobial and anti-inflammatory that can help reduce redness and the appearance of blemishes. Its antimicrobial properties help to reduce pore clogging, which can occur in severe rosacea flare-ups.
Paula's Choice azelaic acid cream-gel also contains salicylic acid and licorice root. Salicylic acid helps to even out skin tone and reduce signs of inflammation. Meanwhile, licorice root can help to soothe skin irritation and redness associated with rosacea.
Green tea is best known for being one of the healthiest drinks in the world. Green tea has been linked to a myriad of health benefits, including weight loss. The green, biter tea comes from the leaves of the camellia sinensis plant. It contains powerful antioxidants known as polyphenols. Polyphenols have been proven to reduce inflammation.
Cleansing with Replenix Green Tea cleanser can help to soothe inflamed rosacea flare-ups. The gentle soap-free cleanser is safe for all skin types and formulated to cleanse and moisturize skin at the same time. The cleanser's other ingredients include vitamins A, C, and E which provide antioxidant protection against free radicals which can age and damage skin.
People who suffer from rosacea tend to have more sensitive skin. Rosacea flare-ups are often triggered by external factors such as drinking alcohol or using irritating skin and cosmetic products. If you have rosacea, choosing non-irritating skin cleansers and cosmetics is crucial to preventing or worsening flare-ups.
Cerave Hydrating Facial Cleanser with Ceramids and Hyaluronic Acid is a gentle facial cleanser formulated for those with sensitive skin. It can be used to cleanse skin free of pore-clogging dirt, makeup, or excess oil.
The best benefit of using Cerave's Hydrating Facial Cleanser is that it cleanses skin without drying it out. Thanks to ceramides, using the cleanser will help to restore your skin's protective barrier. And the hyaluronic acid will help to lock in moisture, which can help soothe dry rosacea inflicted skin.
Spending time in the sun can exacerbate rosacea. The sun's powerful UV rays can trigger symptoms of rosacea, such as irritating redness. Unfortunately, many sunscreens contain fillers and fragrances that can irritate sensitive rosacea skin. To protect your skin from the sun and prevent rosacea a rosacea flare-up, you need a mineral-based sunscreen that's non-irritating.
Colorscience Sunforgettable Total Protection Face Shield is a mineral-based sunscreen that's recommended for rosacea sufferers. The SPF 50 sunscreen is fragrance-free and protects your skin from UVA/UVB, pollution, blue light, and infrared radiation.
The hydrating, antioxidant-rich mineral formula both nourishes and protects your skin from skin damaging free radicals. Even better, the formula blends into your skin with a creamy, weightless finish and luminous glow.
5. SkinVite

 - Natural Supplement for Gut & Skin Health 
Taking care of your skin involves doing more than using the right cleansers and creams. Skin health is very much dependent on what's happening in your body internally. When your gut biome is out of whack, it causes an immune response which contributes to inflammation.
Bacterial imbalances in the gut have been linked to skin conditions such as acne, eczema, and rosacea. To restore your gut balance, you must maintain the right levels of nutrients and probiotics.
SkinVite is an all-natural supplement formulated for improving inflammatory skin conditions like rosacea and eczema.* It contains clinical grade vitamins, minerals, herbs, and probiotics that have been thoroughly researched to aid in reducing inflammation and restoring gut microbiome.*
Maintaining a healthy gut requires eating a healthy balanced diet with the proper amount of nutrients. SkinVite can supplement your diet to ensure you are getting the right nutrients to balance out your gut and skin health.*
Rosacea can cause your skin to become more sensitive and drier. Moisturizing your skin daily is an important part of a rosacea-prone skin care routine. Finding the right moisturizer that's both hydrating and non-irritating can be a challenge.
The SkinFix Barrier+ is a hydrating face cream that uses natural ingredients to both moisturize and repair your skin's barrier. SkinFix contains a firming nutri peptide blend which helps to support skin barrier health and reduce visible redness and skin sensitivity. The cream is best for all skin types; normal, dry, or oily. The active skincare ingredients help to visibly firm, brighten, and plump skin texture ravaged by rosacea flare-ups. 
Chronic redness is the most visible and troublesome symptom with rosacea. The redness can spread across the nose and cheeks and can be difficult to hide with makeup.
Red, inflamed skin can be soothed by natural ingredients like chamomile extract and aloe vera DermaDoctor Calm Cool + Corrected Anti-Redness Tranquility cream contains natural ingredients that help to soothe red, irritated skin. And ingredients like hyaluronic acid, shea butter, squalane, and vitamin E help to moisturize dry rosacea-prone skin.
Rosacea can cause red, pus-filled pimples that resemble acne. While topical skincare is an important part of any rosacea-prone skincare routine, light therapy may be something to consider as well. Blue light acts as an antimicrobial that helps kill blemish-causing bacteria on the skin's surface.
LightStim for Acne is a skincare device that uses UV-free red light and blue light to destroy bacteria and reduce inflammation without damaging or drying skin. It's a useful alternative to topical skincare that may be too irritating for some individuals with rosacea. Light therapy can help spot reduce blemishes and redness that occur during rosacea flare-ups.
Environmental triggers like sun exposure, temperature, and weather can be triggers for rosacea flare-ups. SkinCeuticals Redness Neutralizer moisturizing cream can reduce blotchy, red skin irritation by building up skin's defenses against environmental triggers.
The moisturizing cream contains ingredients like squalane and the chamomile extract, bisabolol, which are known for their hydrating and anti-inflammatory benefits.
SkinCeuticals Redness Neutralizer cream is clinically proven to improve skin smoothness and radiance. It can soothe the burning sensation associated with rosacea by providing a skin cooling effect. It's also free of many skin irritating ingredients like alcohol, fragrance, and dye. 
Chronic rosacea flare-ups can be confidence busting. You may be tempted to use thick concealers or foundations to cover up redness and bumps. Unfortunately, many makeup products can cause skin irritation in rosacea-prone skin.
Alastin Hydra Tint Pro Mineral sunscreen acts as both a broad-spectrum UV/UVB ray protector and blemish cover up. The tinted mineral cream can cover up redness and blemishes without irritating the skin. It's a lightweight cream formula that evens and brightens skin tone while also providing protection from pollution, IR rays, and blue light.
If you're prone to acne-like breakouts during a rosacea flare-up, the Peter Thomas Roth Therapeutic Sulfur Mask is for you. Sulfur is known to provide therapeutic anti-microbial and pore-cleansing properties that can help to reduce acne buildup.
A therapeutic sulfur mask can help with soothing acne prone skin by reducing redness, inflammation, and blemishes. The Peter Thomas Roth Therapeutic Sulfur Mask also contains aloe vera, which is used to calm and cool irritated skin. 
Balancing your skin's microbiome is vital to preventing rosacea flare-ups. An unhealthy skin microbiome can lead to clogged pores and irritation, which make rosacea symptoms worse.
The La Roche-Posay Toleriane Double Repair Face Moisturizer contains prebiotic thermal water, which helps to balance out your skin's healthy microbiome. It also contains moisturizing ceramides, which support and help repair your skin's protective barrier. The La Roche-Posay facial moisturizer is suitable for all skin types and can encourage a healthier, youthful complexion.
The top 12 products for rosacea: Takeaway
Rosacea is an unfortunately common skin condition that can affect anyone at any time. Choosing the right skincare products for your skin that don't cause further irritation can be problematic. Steer clear of skincare products with ingredients like fragrances and dyes which can be triggers for sensitive rosacea-prone skin.
Additionally, natural supplements like SkinVite can help support a healthy skin biome from the inside out.
* These statements have not been evaluated by the Food and Drug Administration. These products are not intended to diagnose, treat, cure or prevent any disease.