14th November 2022
Slippers for Neuropathy: Benefits and How To Choose a Good Pair
Dr. Devan Patel, PharmD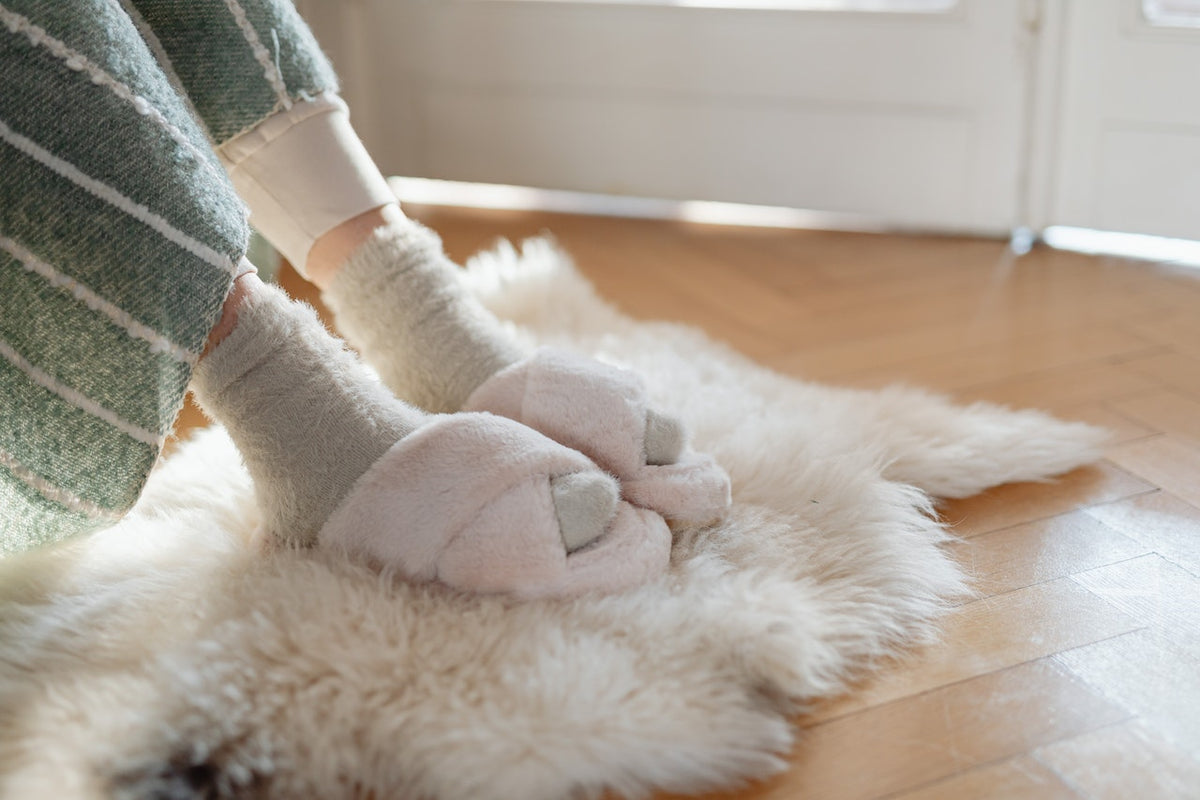 Finding the right pair of shoes is difficult for many of us, but for those with neuropathy, the struggle is even greater. Neuropathy is a common nerve pain disorder that affects millions of Americans and almost 50% of diabetics at some point in life. One of the most reported symptoms of neuropathy is intense pain in the feet. 
To live with neuropathy, certain lifestyle factors should be addressed including wearing proper footwear. Wearing house slippers at home may help provide comfort and relief for painful neuropathy symptoms in your feet. Read below for the benefits of slippers for neuropathy and how to find the perfect pair. 
What Is Neuropathy?
Neuropathy is a condition in which the peripheral nerve cells become damaged. Your peripheral nerves are responsible for transmitting important messages from your brain to your body. These nerve cells control many functions in your body including sensory, motor, and even your ability to regulate your body temperature. 
When peripheral nerve cells become damaged, these bodily functions may be affected resulting in a wide range of symptoms. Some of the most common symptoms of neuropathy include:
Sharp pain in the hands and feet

Weakness in the affected body part

Loss of touch 

Inability to feel heat or cold

A tingling, pins and needles like feeling
What Causes Neuropathy?
Neuropathy can occur due to a number of different reasons. Traumatic injury, viral infection, autoimmune disease, or nutritional deficiencies are all possible causes of neuropathy. Diabetes, however, is the most common cause of neuropathy. Too much sugar in the bloodstream has a damaging effect on blood vessels, which can result in nerve cells becoming starved of nutrients and oxygen. Most diabetics experience painful neuropathy symptoms in their feet, making it sometimes difficult to perform daily tasks. The right slippers for neuropathy can help to manage pain, and avoid injuries and infections in diabetics. 
Why Do You Need Slippers for Neuropathy?
Wearing the right shoes helps provide cushioning, support, and protection for your feet. These factors are especially important if you suffer from diabetic neuropathy. Neuropathy can cause pain but may also cause loss of sensation in your feet. This can cause loss of balance and coordination as well as the inability to detect any injury to your foot. 
The right slippers for neuropathy will protect and support your feet to reduce your risk of injury or fall. They will also provide comfort and room for your feet and toes to relieve pressure and reduce pain. 
How To Choose Slippers for Neuropathy
The first thing to look for when choosing slippers for neuropathy is proper fit. Shoes that are too tight can create more pressure on your foot and will worsen any loss of sensation you already experience. This can be especially problematic for diabetics. One study found that diabetic neuropathy patients who wear ill-fitting shoes increase their risk of developing foot sores. 
Well-fitting shoes with plenty of depth are ideal for those who experience edema (fluid buildup) as a symptom of diabetes. Your shoes should be roomy enough to wiggle your toes easily and should not constrict your feet in any way. 
Other things to look for in footwear and slippers for neuropathy include:
Strong arch support

Plenty of cushioning (particularly underneath the heel)

Insoles to distribute pressure

Wide widths

Extra depth
What Are the Best Slippers for Neuropathy?
The best slippers for neuropathy will depend on your personal needs and preferences. You should take into consideration the guidance listed above for finding a pair of slippers that are both comfortable and provide protection. Below are a few suggestions for slippers for neuropathy that may work for you.
Orthofeet's Hudson diabetic slippers for men were designed for diabetic neuropathy patients. The indoor-outdoor shoes feature a padded interior with extra cushioning around the feet for protection. They have adjustable straps to make the fit as tight or loose as you want them to be. The shoes also come with removable orthotic inserts that help to realign your feet and provide extra balance. You can purchase the Orthofeet Hudson diabetic slippers in different multiple widths and sizes to find the perfect fit for you. 
The Orthofeet Louise stretch knit women's slippers feature a non-binding design that may help boost blood circulation in your feet. They are fully adjustable making them helpful for those with swollen feet as you can adjust their fit throughout the day. They have a wide toe box to allow for more room for people with wider feet. Like the Orthofeet slippers for men, the Louise stretch knit women's slippers also come with a removable orthotic insert. The shoes feature all-around comfy padding, heel cushioning, and are available in multiple widths and sizes. 
The Apex Basis neuropathy slippers are slippers designed to feel more like socks. They are designed to provide pain relief for extra sensitive diabetic neuropathy feet. Though they look more like socks, the Apex Basis slippers feature removable footbeds and heel lifts to provide arch support. The indoor slippers are slip-resistant, making them suitable for hard floors in your home. They are ideal for those who don't want to feel like they are wearing slippers. 
The Takeaway
Slippers for neuropathy may help to ease neuropathic pain in your feet and provide you with comfort and protection. However, they are only part of a neuropathy treatment program. Supplements, like NeuraZenx, may help support nerve health.*
NeuraZenx works by providing some of the nutrients your nerve cells need for general health.* Making lifestyle changes and proper footwear a part of your neuropathy treatment program (along with guidance from your doctor) may help you to live a happier, potentially more pain-free life.*
* These statements have not been evaluated by the Food and Drug Administration. These products are not intended to diagnose, treat, cure or prevent any disease.