30th August 2022
Apple Cider Vinegar for Neuropathy: Can It Help and How To Use It
Dr. Jill Barat, PharmD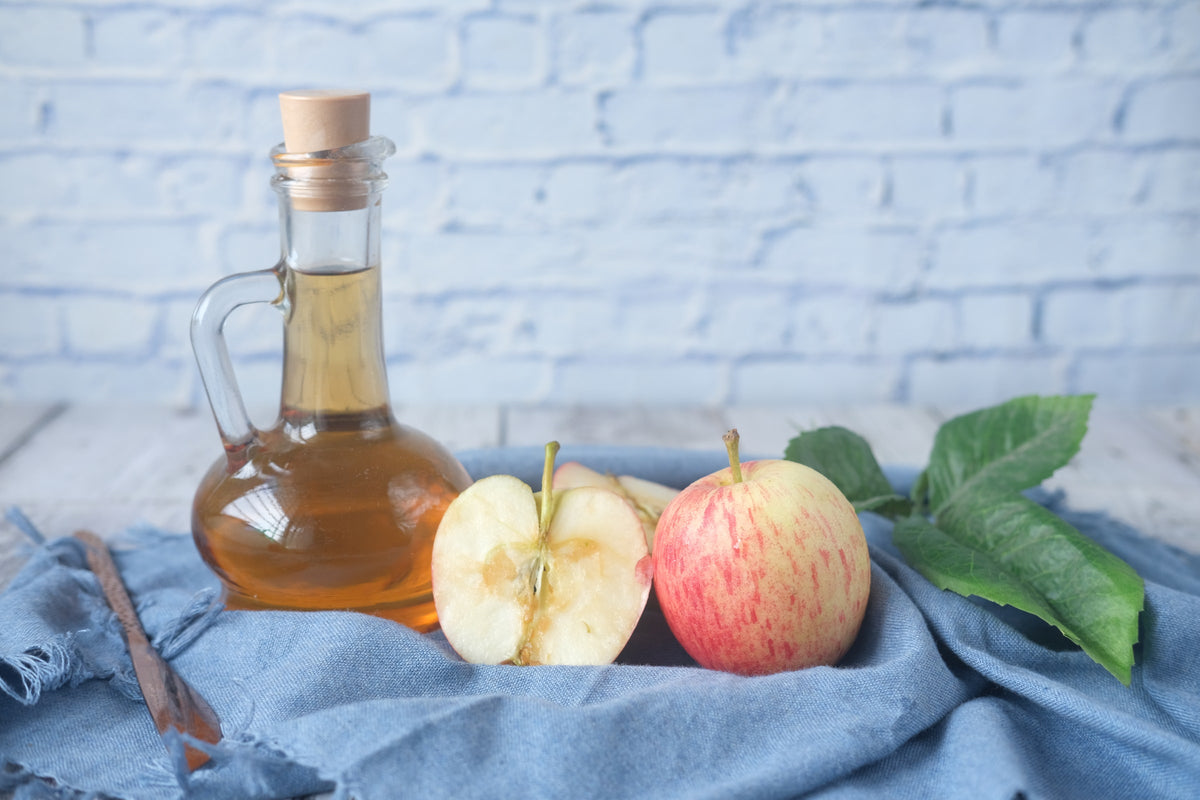 Apple cider vinegar is a common catch-all aid that you may see promoted at health food stores for a myriad of ailments.
One of the commonly mentioned potential uses for apple cider vinegar is for reducing the symptoms of neuropathy. But, does this anecdotal benefit actually hold any weight?
Below, we will dive into the apple cider vinegar for neuropathy connection, including how apple cider vinegar can help with type 2 diabetes and if there is possibly an indirect connection to neuropathy there.
We will also discuss the studies currently available on apple cider vinegar, and give you some guidance on how to try it out if you end up wanting to use it.
Many cases of neuropathy develop due to type 2 diabetes
Type 2 diabetes is the cause of many cases of peripheral neuropathy, and up to half of all diabetes type 2 patients also experience neuropathy symptoms.
While there is not currently a cure for diabetic peripheral neuropathy, studies have shown that better glucose control in those with diabetes type 2 may help prevent or delay the progression of neuropathy.
Studies show that apple cider vinegar may be beneficial for diabetes
We do have quite a few studies done looking into the potential benefit that consuming apple cider vinegar may have for type 2 diabetes patients.
One study had 110 diabetes type 2 patients split into 2 groups and consume either 15 mL of apple cider vinegar in 200 mL of water each night with dinner, or a placebo drink.
The participants had various diabetes-related levels measured before the start of the experiment and at the end, after 3 months.
At the end of the study, the apple cider vinegar group had significantly improved levels for their HbA1c, fasting blood sugar, total cholesterol, triglycerides, and hip-to-waist ratio.
The authors conclude by saying that apple cider vinegar, if used regularly, may be effective in improving diabetic control in type 2 diabetes patients.
Another study done on mice induced with diabetes found that when apple cider vinegar was introduced to their water at concentrations of 0.16% and 1.6%, the mice had significantly reduced blood glucose levels on days 7, 14, and 21 of the study.
The study concludes by saying that while more studies need to be done to confirm the mechanism behind glucose reduction with apple cider vinegar, that is has a considerable blood glucose reducing effect in diabetic mice.
A 2019 study looked into if there were additive benefits of using apple cider vinegar along with the popular first-line diabetes medication, Metformin.
At the end of 12 weeks of combining these two, the researchers reported that there were synergistic effects of using both methods together to help improve glycemic control and augment weight reduction.
Diabetes improvements may lead to reduced neuropathy progression
The studies above suggest that there may be a role for apple cider vinegar in helping patients maintain better glycemic control – which is a main goal of diabetes treatment to slow the progression of the disease.
Hypothetically, if apple cider vinegar helped diabetic patients better control the disease, this could potentially also reduce the risk of developing or worsening neuropathy indirectly.
Can apple cider vinegar help with neuropathy?
There are not currently any studies looking into apple cider vinegar use and neuropathy directly.
But, there are a few studies stating positive effects on diabetes type 2 by consuming apple cider vinegar daily.
Since type 2 diabetes is one of the main causes of neuropathy development and worsening, there may be a possible indirect connection here.
More studies need to be done to confirm an indirect link, or a potential direct link between using apple cider vinegar and neuropathy improvements.
How to use apple cider vinegar for neuropathy
If you still want to try to use apple cider vinegar to see if it may help with your neuropathy symptoms, there is no proof that it can help, but it is unlikely to hurt you or cause a negative reaction when used in normal amounts.
A good way to give it a go would be to source a good, organic apple cider vinegar from your local grocery or health food store.
Then, you can mix one tablespoon (15 mL) into a glass of water to drink once daily.
NeuraZenx supplement for neuropathy nerve support
If you are experiencing peripheral neuropathy and are looking for diet or supplement additions that may help, NeuraZenx may be a good supplement for you.*
NeuraZenx is a pharmacist-developed supplement that is a nutritional booster for neuropathy that may help support optimal nerve health.*
If you are interested, you can learn more about NeuraZenx or place an order from the product page.
*These statements have not been evaluated by the Food and Drug Administration. These products are not intended to diagnose, treat, cure or prevent any disease.