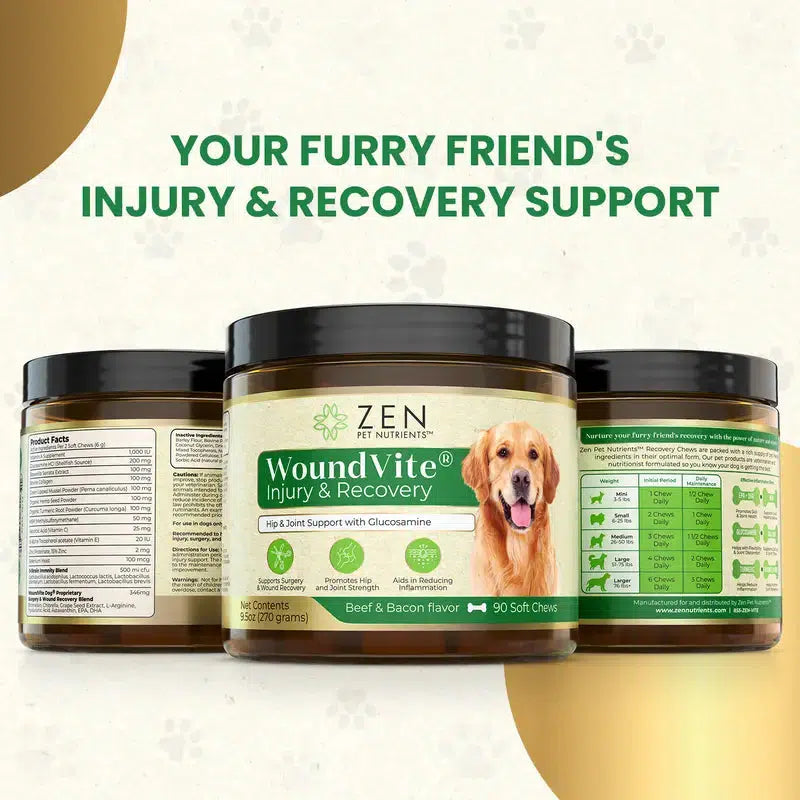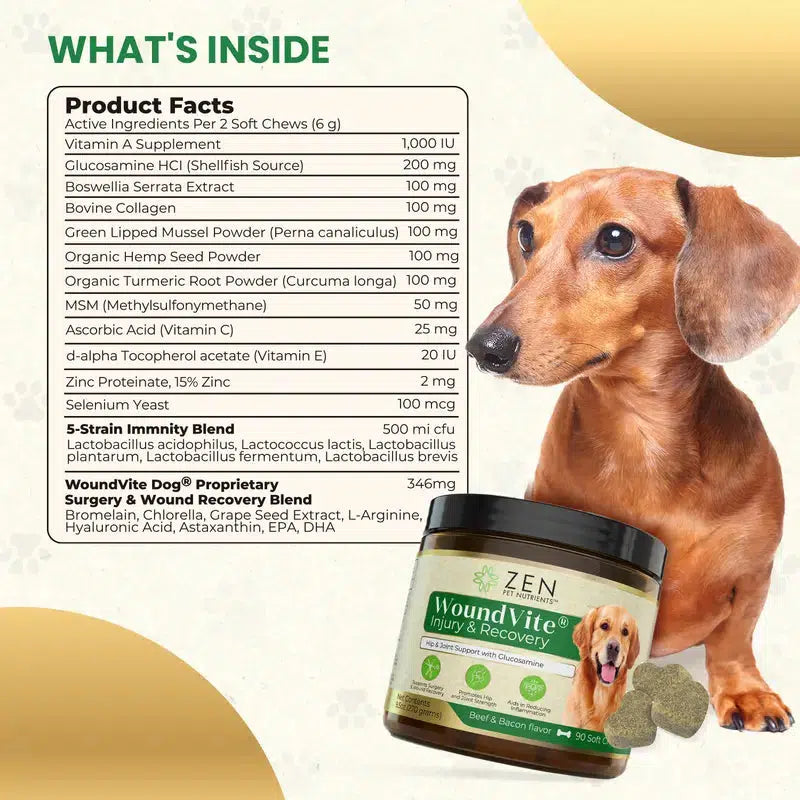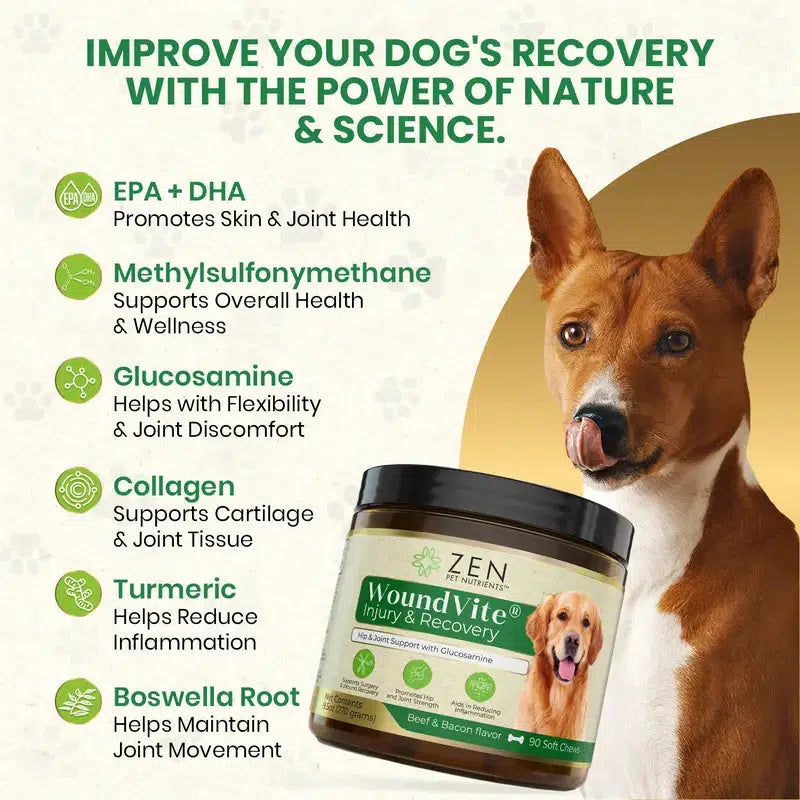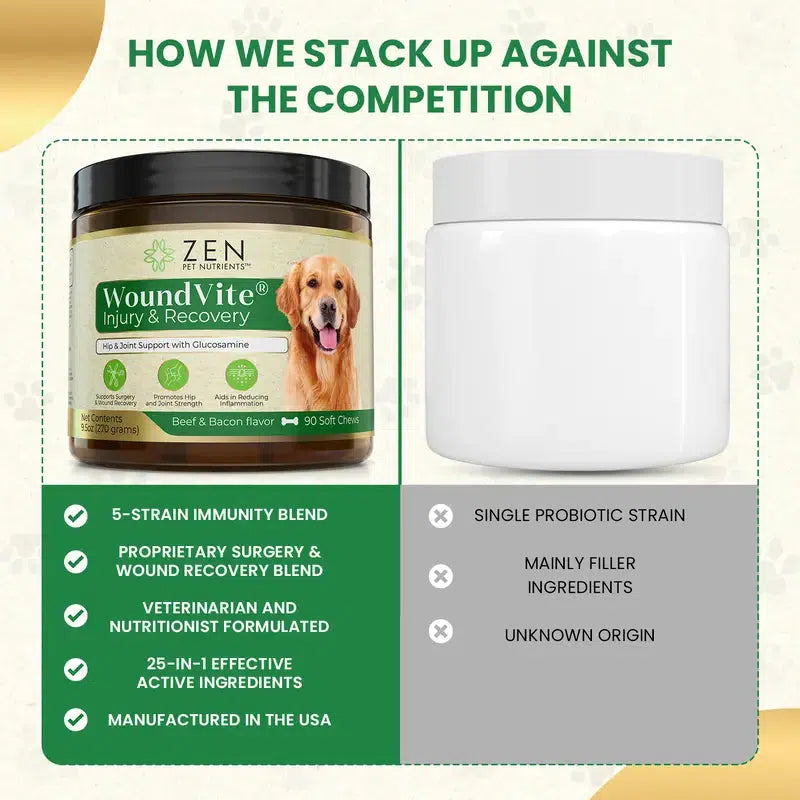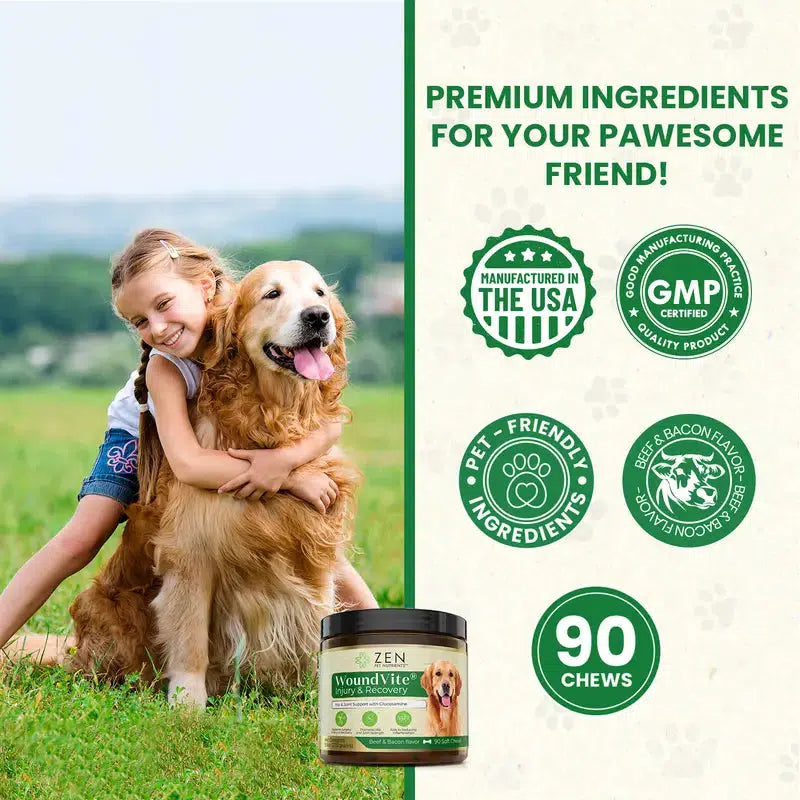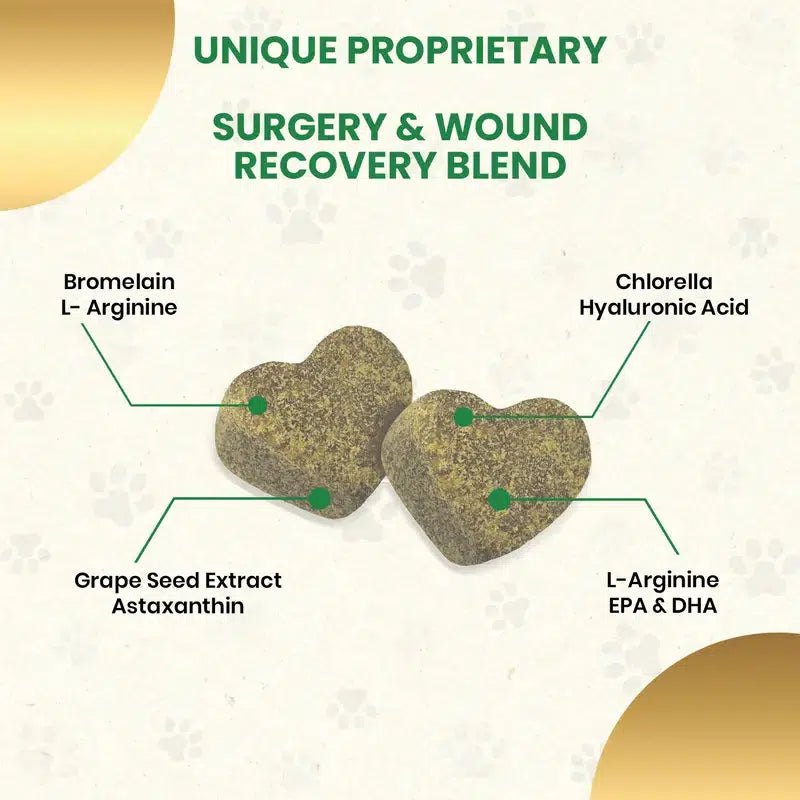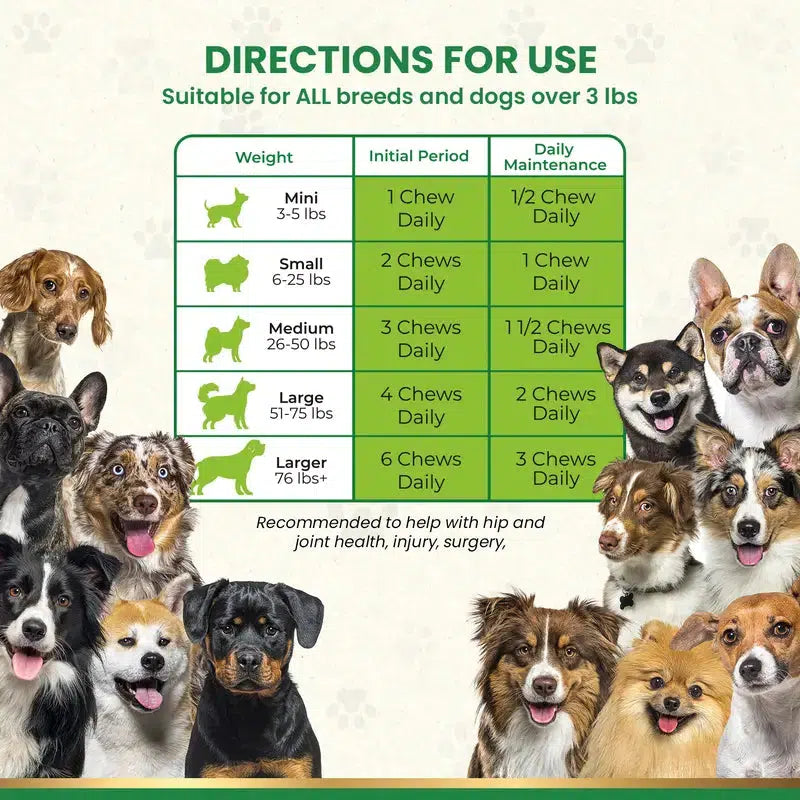 WoundVite for Dogs®
Want your dog to heal faster? #1 Most Comprehensive Surgery-Wound-Joint Recovery  Formula
Supports Surgery Recovery
Aids in Healing Recovery Time
Supports Wound Healing
Promotes hip and joint strength
100% Money Back Guarantee
Free Domestic Delivery Over $30
FEATURED IN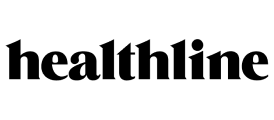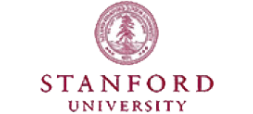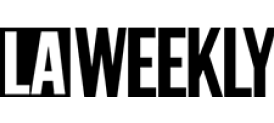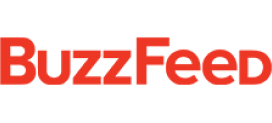 Zen Benefits.
#1 Most Comprehensive Wound, Scar & Surgery Recovery Formula*
Supports Surgery Recovery
Supports Wound Recovery
Promotes Hip and Joint Strength
Aids in Reducing Inflammation
Premium Quality Ingredients
Glucosamine
Bovine Collagen
MSM (Methylsulfonylmethane)
Boswellia Root Extract
Green Lipped Mussel Powder (Perna canaliculus)
Organic Hemp Seed Powder
Organic Turmeric Root Powder (Curcuma longa)
Bromelain
Chlorella
Grape Seed Extract
L-Arginine
Hyaluronic Acid
EPA (Eicosapentaenoic Acid)
DHA (Docosahexaenoic Acid)
Astaxanthin
5- Strain Immunity Blend
Vitamin A
Ascorbic Acid (Vitamin C)
d-alpha Tocopherol acetate (Vitamin E)
Zinc Proteinate
Selenium Yeast
Frequently Asked Questions
Veterinarian & nutritionist formulated with medical-grade & organic ingredients, woundvite for dogs is specifically formulated with a proprietary blend to help your dog recover and heal faster. It contains 26 key vitamins, minerals and herbs in optimal & bioavailable dosage forms designed to be highly effective building blocks to speed up recovery and injury.
Anytime there is trauma to tissue or a joint, supplements that help rebuild cartilage and thicken joint fluid can really help. Those include glucosamine, hemp seed, bovine collagen, MSM, omega fatty acids, hyaluronic acid, and vitamins E, zinc and C.
Most vets will recommend that your dog start joint supplements after an orthopedic surgery. That is because any damage to a joint increases the chance that they will develop arthritis in that joint. Joint supplements can help prolong that from happening and decrease the severity when it does.
Every dog is different, but your furry friend could see results within a few weeks, depending on if it is post surgery, how intense the surgery was, or if it is used daily for aiding inflammation. It is important your dog takes the recommended daily dose for at least 3 months.
The Journal of Veterinary Pharmacology and Therapeutics concluded that dietary supplements, such as glucosamine and DHA can aid in preventing inflammation and anabolic effects that could cause hip and joint issues. Protection from these dietary supplements can protect not only the cartilage but also bones! Long term benefits can be seen when supplements are administered consistently. Glucosamine also promotes hyaluronic acid synthesis which will aid healing and decrease the formation of scars.
In the process of packaging commercial dog food, around 50% of nutrients and vitamins, such as vitamin A, E, D, and K, are lost. Vitamin B can be lost almost completely. Vitamins and minerals are crucial in yours and your pets daily functions and are even more important and needed when your pet is healing or fighting infections.
Joint health decreases by 20% before a dog's first birthday, and decreases by 80% for senior dogs and ages 8 years and older. Dogs may even show signs of arthritis by their first year.
The best time to give your furry friend their soft chew is with one of their meals to help create a routine for you and pet, to ensure daily administration. Soft chews can be given at any time, breakfast, lunch, dinner, or any convenient time between.
WoundVite for Dogs is a safe product. Most joint supplements work synergistically with prescriptions like anti-inflammatories and pain meds. If your pet has any medical conditions that require your pet to take medication, it is important to consult your veterinarian if it is safe to take. If your pet is taking this supplement post surgery, it is important to consult if it is safe to use and when your pet may start taking their soft chews.
You should stop most supplements a few days before the surgery, and maybe for a day or two after, as many of them can cause bleeding, including flaxseed oil, evening primrose oil, borage oil, garlic, ginger, ginkgo biloba, ginseng, and white willow bark. WoundVite does not contain these ingredients, however talk to your veterinarian before starting and stopping supplements.
There a few main ingredients such as Vitamins C, Zinc and E, probiotics can help wounds heal faster due to their antioxidative effects. They also help boost the immune system to fight off infection, something very important in wound healing. In addition, grape seed extract, L-arginine, hyaluronic acid, Astaxanthin are key ingredients that have strong antioxidant and immune boosting properties that improve wound healing.
Yes, for most healthy dogs, joint supplements are safe and generally work better when used long term. Once you start bathing those joints in all these healthy and beneficial nutrients, you don't want to stop. This can lead to rebound worsening of joint pain as your pet has become accustom to optimized joint health. Of course, if your pup has a reaction of any kind to a joint supplement, discontinue and speak to your veterinarian.
Now! Even if your pet is already showing signs of joint discomfort, it is never too late to start optimizing joint health. It's never too late to start. Puppies can even take joint supplements if they are showing signs of early joint discomfort or require any orthopedic surgery. Some breeds would benefit from starting joint supplements as soon as a pup stops growing. These are breeds that are especially prone to hip, elbow, or knee abnormalities or injuries. Breeds on that list include: German Shepherds, Golden Retrievers, Labrador Retrievers, Saint Bernard, Rottweiler, Great Danes, Mastiffs, Bulldogs, Basset Hounds, Pugs
Any large or giant breed dog may benefit from early joint supplements. That's simply because these dogs often grow at a tremendous rate, going from puppy to pony in a matter of a short time and are predisposed to early onset joint degeneration. Clinical signs are often silent until irreversible joint damage has occurred and starting supplements early will provide the best environment possible for these at risk dogs.
Wound healing is a complex process, and there are some factors that influence wound healing and long-term recovery for the better, and some that affect it for the worse.
To begin with, an injury or surgical site needs to have a good blood supply. That's because blood carries all of the healing factors, including oxygen, to the place they are needed. You need clean healthy tissue to allow proper healing. This is why surgical procedures must be sterile. Finally, a healthy functioning immune system is required to keep the healing tissue free from infection and prevent excessive inflammation from delaying healing. ,
Factors that can delay healing and increase the recovery time include underlying health conditions, such as diabetes, kidney or heart disease, or Cushing's, to name a few. Any of these can interfere with blood flow or the immune system, increasing the time it takes for a dog to knit themselves back together. Another risk factor is being overweight. Not only does excess weight equal excess pressure on joints, fatty tissue can actually increase inflammation, Infection is a major hinderance to tissue healing. You'll want to keep that surgical site from getting infected by following the vet's orders of not bathing, not letting your pup lick the incision, and giving any prescribed antibiotics.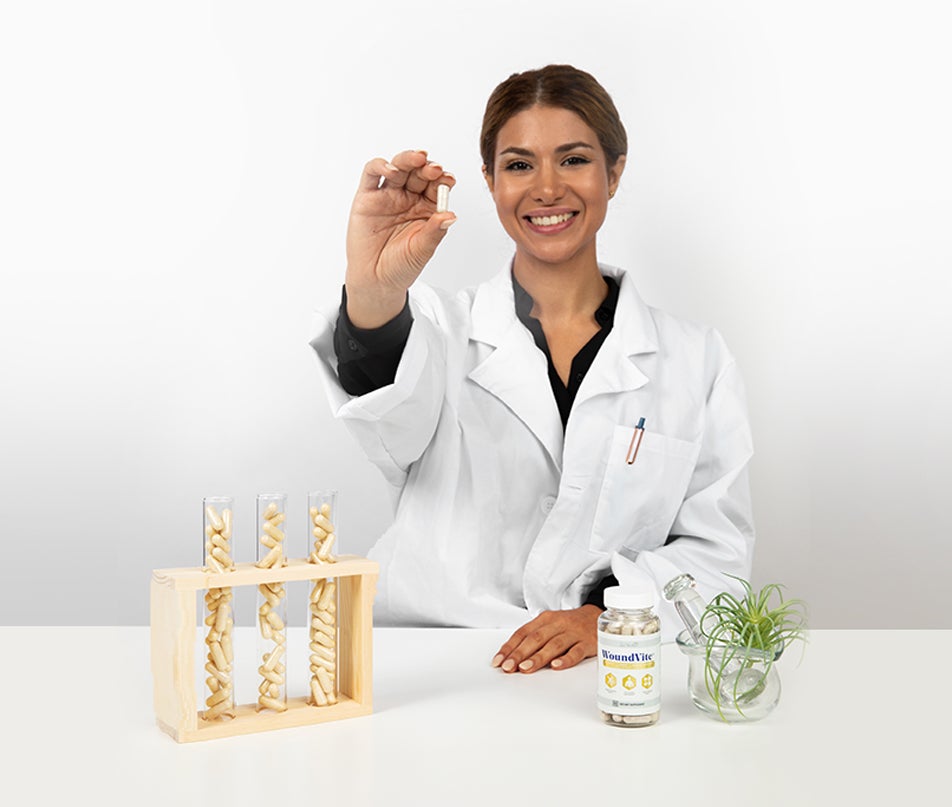 Why Zen Nutrients?
They say pharmacists are one of the most trusted professionals in the world. Well then, if you take the trust and wisdom of a pharmacist, combine that with the knowledge and expertise of a physician, this equals Zen Nutrients.
Dr. Saju Joseph is a talented award winning general surgery specialist that graduated with honors from Tufts University School of Medicine and completed a residency at Harvard Medical School. He has more than 20 years of diverse experiences in surgery, wound care, oncology, academia, and executing clinical research trials.
Dr. Kacian Brown, MD, ABWM, CWSP is an industry leading certified wound care specialist physician that graduated with honors from the American University of the Caribbean. She has more than 15 years of diverse experience in wound care, nutrition, dermatology, and academia.
Dr Eric Wood, ND is a District of Columbia-licensed (Washington D.C.) naturopathic physician and a graduate of the Canadian College of Naturopathic Medicine. He has been featured on NBC and ABC for being one of America's best Naturopathic Doctors
Dr. Jill Barat, PharmD is a licensed clinical pharmacist with a doctorate from the University of Florida. Dr. Barat has pursued advanced healthy aging training in A4M with a passion for patient wellness and counseling. She maintains an emphasis on an integrative approach to maintain the health and wellness of her patients.
Nicholas Micciche is a Doctor of Pharmacy from the University of South Florida College of Pharmacy. He is a Clinical Nutritionist with Zen Nutrients focusing his efforts on formula development, research and ultimately patient wellness. Nicholas is pursuing an advanced certification with the International School of Herbal Arts and Sciences.
Dr. Sona Ramdath Jr received his Doctor of Podiatry Medicine and Surgery at Barry University School of Medical Sciences in Miami Shores, Florida and completed a 3-year surgical residency at the Department of Veterans Affairs in Miami Florida. He then completed a Fellowship in Sport Medicine at Palo Alto Medical Foundation in San Francisco, California with mini fellowships in Germany and England in 2010/2011. He specializes in plantar fasciitis, neuropathy, wound care, foot and ankle disorders.