25th July 2022
The 5 Best Supplements for Acne: Pros, Cons, and Where To Buy
Dr. Devan Patel, PharmD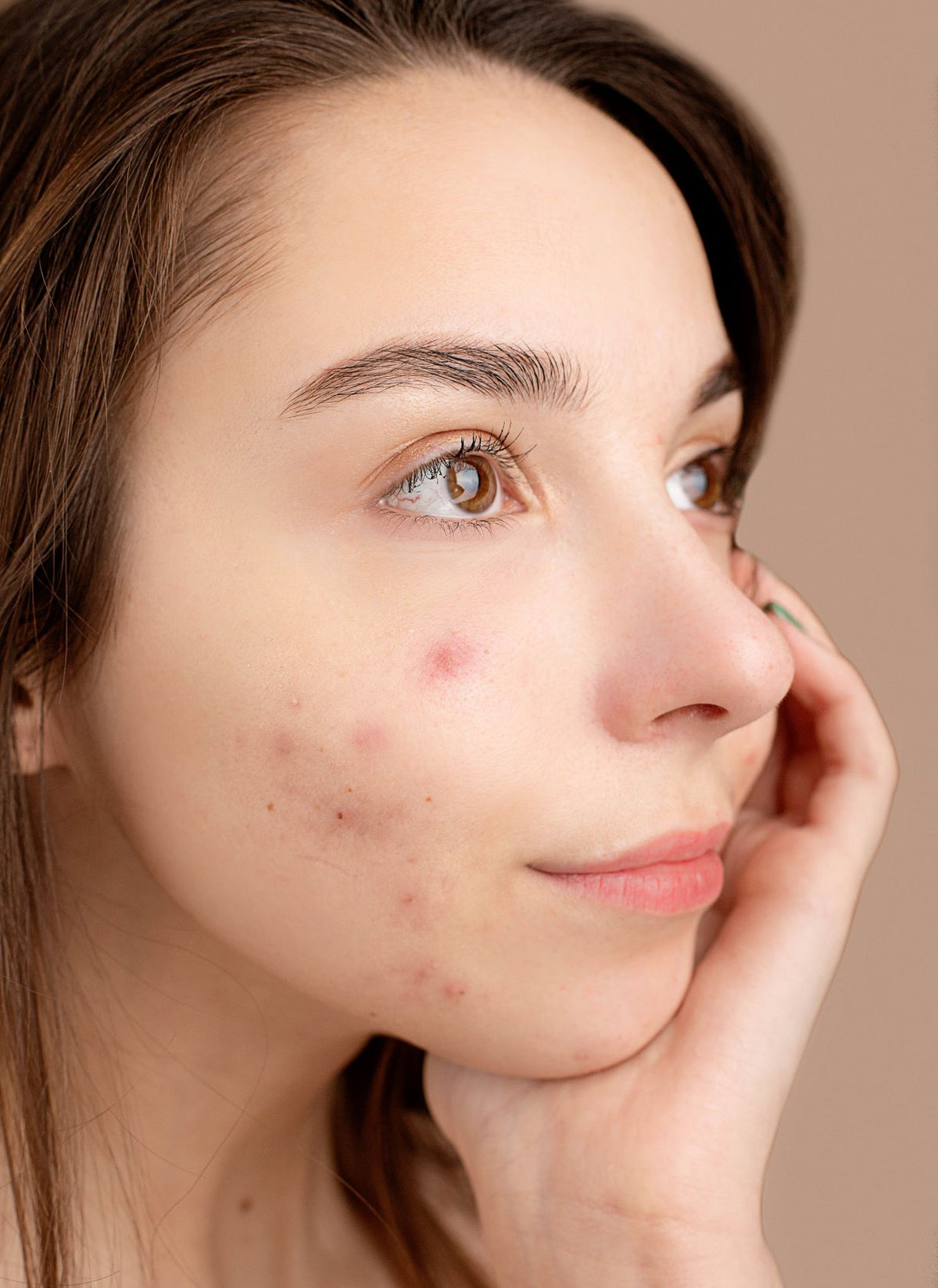 Acne affects an estimated 50 million people in the US each year. It's characterized by red, irritated, sore, and sometimes pus-filled pimples or bumps.
Acne occurs most commonly on the face and back but can appear anywhere. Most acne breakouts surface during periods of hormonal imbalance when the sebaceous glands in your skin excrete more oil than usual. Excess oil leads to clogged pores which develop into blackheads, whiteheads, or cysts. 
Topical medications and skin care are most often used to treat acne in teens and adults. These medications and skin care products typically work by using antibiotics and benzoyl peroxide to kill pore clogging bacteria and excess oil production.
While topical medications can help to treat existing acne breakouts, oral treatments help to fight acne from the inside out.
Natural supplements can be used to treat internal conditions that lead to the emergence of acne pimples. If you're at your wits end with ineffective topical acne treatment, you may be using the wrong approach to treatment. 
Below, are the 5 best supplements for treating cystic and hormonal acne, including the pros and cons of the formulations, and where to buy them if you are interested.
ZitSticka Skin Discipline acne vitamins are formulated to resolve non-cystic acne, reduce redness, lessen skin texture, create a more balanced and even skin tone, and control regular acne breakouts.
Skin Discipline acne vitamins are 100% drug free and made from a blend of skin beneficial nutrients and probiotics. Some of the ingredients include Zinc, probiotic blend, and omega-3 which help to unclog pores, regulate oil production, reduce redness, and balance your gut microbiome. 
Skin Discipline acne vitamins naturally help support your skin's structural proteins and clear bacteria for an inside-out detoxification.
The vitamins are designed with a nested cap-in-cap technology that allows for a full spectrum acne fighting supplement blend to exist in one capsule. One pill once daily is all you need to support a healthier skin complexion. 
Most users see results after 90 days of taking Skin Discipline acne supplements. Each bottle contains a 30-day supply and retails for a little over $40 on amazon. ZitSticka Skin Discipline acne supplement has a 4.2 out of 5 stars on amazon. Most reviews claim clearer skin after use, but the supplement's strong smell and strange color are a turn-off for some. 
Pros:
- Natural supplement formula proven to fight acne
- Only need one pill daily 
Cons:
- 90 days until most people see results
- Price is high - $44/per month.
- Supplement has strange odor and smell that may turn off some people
SkinVite is a natural skin health supplement formulated by a team of dermatologists, physicians, and pharmacists.
The formula was created specifically to treat skin health conditions like acne, eczema, and rosacea.* The 19 natural vitamins, minerals, and herbs are scientifically backed to support skin health by reducing inflammation, clearing pores, and balancing a healthy gut microbiome.* An out of whack gut microbiome is linked to chronic inflammation and skin conditions.
A supplement that focuses on balancing your microbiome levels and relieving inflammation treats the root of your skin health concerns.* SkinVite's unique blend of probiotics works to help balance gut issues while other powerful ingredients, like Turmeric, reduce inflammation.*
SkinVite, by Zen Nutrients, is formulated in an FDA-registered lab following GMP standards. The formula is non-habit forming and safe for use with very little risk of adverse side effects.*
Each 60-capsule bottle of SkinVite contains a one-month supply for an affordable price in comparison to other skin health supplements. SkinVite is a also a good natural alternative to Accutane.*
Pros:
- Best and most powerful blend of natural ingredients to support skin health from the inside.*
- US based, GMP certified company that manufactures in FDA registered labs.
- Affordable price at $14.99 per month.
- Non-habit-forming safe acne supplement .*
Cons:
- May contain ingredients not suitable for individuals with food allergies. Check all ingredients before use.
- 30-45 days until most people see results, must stick with a routine.
Acne breakouts can be caused by an imbalance of hormones. Women with acne-prone skin may have more difficulty with their skin during certain points of their menstrual cycles because of fluctuating hormone levels.
DIM, or Diindolylmethane, is a natural compound found in cruciferous vegetables like kale, broccoli, or cauliflower. It's a powerful natural nutrient that has been shown to balance androgen and estrogen hormones in women. 
MDacne DIM supplement is specifically formulated for women with adult hormonal acne. It uses natural, plant-based ingredients like DIM, Bioperine (black pepper), spinach, broccoli, kale, and alfalfa powder.
These natural ingredients are packed full of vitamins that support a healthy skin complexion and naturally regulate your hormones. All ingredients are non-GMO, kosher, and non-habiting forming. MDacne DIM supplement is sold in packs of two with each bottle containing a one-month supply.  
At under $40 per pack, you get twice the amount other skin supplements offer. However, if you have allergies to any of the plant ingredients, MDacne DIM supplements should not be consumed. 
Pros:
- Specifically formulated to treat hormonal acne in women
- All natural vegan ingredients 
Cons:
- Not suitable for those with certain food allergies
- Not formulated for non-hormonal acne
- Price is high - $40/per month 
Excess oil production leads to clogged pores which can cause blackheads and pimples. Excess oil production in men and women may be caused by hormonal imbalances, warmer temperatures, or even stress.
Nutrissa ACNEtane vitamin supplement contains key ingredients like vitamin B5, L-carnitine, coenzyme Q10, and vitamin A, which helps to regulate hormonal breakouts and decrease oil production. 
Each natural ingredient was chosen for their benefits in fighting excess oil without over drying skin. Nutrissa ACNEtane is ideal for men, women, and teens. It's a non-habit-forming supplement formula made in a GMP (Good Manufacturing Process) certified facility for quality assurance. 
Accutane is a prescription medication that reduces the size of your sebaceous glands and reduces oil production. While effective, it can have severe side effects. ACNEtane reduces your body's ability to produce oil without the negative side effects such as dry skin.
The average time frame for ACNEtane users to see results is within 2-4 weeks taking 3 soft gels daily. 
Pros:
- Natural formula that reduces excess oil production to clear pores
- Safer, natural alternative to Accutane
- GMP certified 
Cons:
- Limited day supply per bottle
- Reviews are very mixed 
Acne Tame vitamin supplement clears acne-prone skin by controlling excessive sebum levels. It contains effective ingredients like vitamin A, pantothenic acid (vitamin B5), sulfur, and selenium.
These natural vitamins and minerals help to purge skin impurities by working from the inside out. Acne Tame works best for those with oily skin types as it may be too drying for normal to dry skin. 
Acne Tame is a natural way to tame an excessively oily skin complexion by using only natural vitamins and minerals. The all-in-one supplement can be used by both teens and adults who are experiencing hormonal or cystic acne.
Most people see results after 3 weeks of daily use. One bottle of Acne Tame contains a one-month supply and is affordable for most budgets. 
Pros:
- Controls sebum levels naturally
- Affordable

Cons:
- Not suited for dry skin types
- Not 3rd party tested
- Doesn't use premium grade bioavailable or organic ingredients 
The best supplements for acne: Bottom line
Acne is a difficult skin condition to live with. While these 5 acne supplements are proven effective for most people, everyone responds differently.
Supplements are a long-term approach for clearing acne and supporting a more even skin texture. They must be taken daily to see results over time.
Supporting your skin health starts by treating the root cause of acne. What you put inside your body affects how you look on the outside. 
In our opinion, the best overall product for acne and best overall value is SkinVite.
You can order the pharmacist and doctor-formulated SkinVite from Zen Nutrients online today: Here.
*These statements have not been evaluated by the Food and Drug Administration. These products are not intended to diagnose, treat, cure or prevent any disease.