18th February 2021
Large Breast Augmentation: Benefits and Downsides
Dr. Devan Patel, PharmD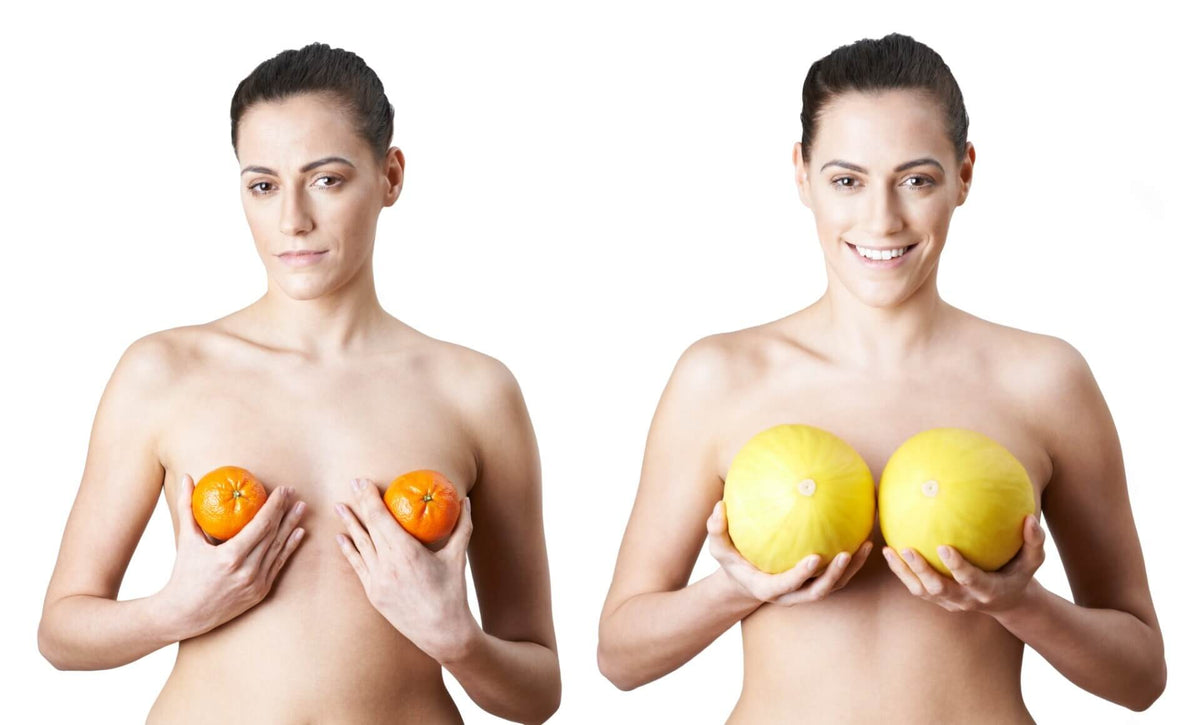 In 2019, breast augmentations were considered the most common cosmetic surgery performed in the United States. Many women feel that having a more prominent bustline enhances their silhouette and overall appearance.
One of the primary reasons that women get breast implants is to increase the size of their breasts. Large breast augmentation can have a dramatic effect when it comes to increasing breast size.
Selecting a breast implant size that is exceptionally large can have certain benefits as well as drawbacks.
Women interested in large breast augmentation must weigh out these factors before making an important and often permanent decision.
Here are several benefits and downsides associated with large breast augmentations you should take into consideration: 
4 Benefits of Large Breast Augmentation
1. Large Implants Can Improve Your Figure
Large breast implants can enhance the overall silhouette of the bustline. They can also enhance the other contours of the body, such as the hips, the waist, and the butt.
Large breast implants are a perfect way of achieving an hourglass figure.
Depending on the individual's aesthetic goals, large breast implants tend to provide high patient satisfaction.  
2. Results Can Look Natural
Some women may find themselves concerned about how their breasts will look after a large breast augmentation.
Fortunately, an experienced surgeon can provide you with natural-looking results. Obtaining natural results can depend on several factors, including the size and material of the implants, and their position.
Silicone implants tend to provide a more natural look and feel. While saline implants feel much harder and have the potential of creating a rippled effect beneath the skin.
If the implants are placed under the chest muscle this can cause them to be less visible.
3. Breast Implants Last Several Years
The results that a push-up bra can provide are not permanent. Once you remove the bra, the effect is gone.
However, with breast implants, you can enjoy these results permanently. Many women find that their breast implants last up to a decade, if not longer. According to the FDA, breast implants should last at least ten years. 
4. Improved confidence
Women who enlarge their breasts tend to feel more confident and secure about themselves. This overall feeling of empowerment allows them to be more assertive in other areas of their lives.
Here are several drawbacks associated with large breast augmentation you should take into consideration:
7 Drawbacks of Large Breast Augmentation
1. Unnatural Appearance
In some patients, large breast implants may not appear natural due to their body shape and the overall size of the breast implants.
In these cases, breast implants can provide an unpleasant result, rather than complementing the patient's natural figure.
2. Additional Surgery May Be Required

Unfortunately, larger breast implants may be required to have corrective surgery due to future complications.
For example, corrective surgery would be required if the breast implants were to sink beneath the breast pocket causing an unnatural and unappealing look; also known as bottoming.
3. Implants Can Rupture

Usually, it takes a considerable amount of force to rupture breast implants; but it is possible. Large breast implants are more prone to rupture than smaller implants.
You will notice immediately when saline implants rupture since the saline solution will leak out and be reabsorbed by your body. While ruptures in silicone implants are less noticeable since the gel is thick and remains inside the implant.
When a rupture occurs, it must be treated immediately to confirm overall wellness and resolve aesthetic issues.
4. Going Too large

Although larger breasts may seem more appealing, some women tend to overestimate the actual breast size until they get a large breast augmentation.
They may be left with results that cause them to feel physically and emotionally uncomfortable.
Even though you can remove them you may find that the process is a bit of a hassle. Changing breast implants requires the first implants to be replaced with new ones. This change will actually cost you additional money.
5. Increased Risk Of Complications

Larger implants increase the risk of post-op complications such as numbness, breast tissue thinning, implant rupture, or bottoming. You may be required to have additional surgeries to correct these complications.

6. Sleeping Discomfort

Large breast implants can make certain sleeping positions such as lying on your stomach physically painful or even impossible to be performed.

7. Activity Limitations

Women who enjoy being active will find that large implants tend to interfere with their lifestyle.
Larger breasts can usually become uncomfortable and painful while performing certain physical activities. They can also place stress on your back, neck, and shoulders.
The Takeaway
As with any cosmetic surgery, finding a qualified plastic surgeon to perform your large breast augmentation is crucial. The last thing you want to do is rush into a large breast augmentation procedure without evaluating the benefits and drawbacks that it entails.
Hence the importance of reviewing a list of the procedure's pros and cons, before your initial consultation with a plastic surgeon.   
While selecting a breast size that will be aesthetically flattering and physically practical can seem challenging. A highly trained plastic surgeon will help you select a breast size that will help you achieve your desired results without compromising your health.
If you decide to commit to a large breast augmentation procedure, we highly recommend that you take a comprehensive supplement like WoundVite that can support wound healing and tissue repair as you recover from surgery.