19th July 2022
10 Best Plantar Fasciitis Products To Reduce Pain
Dr. Devan Patel, PharmD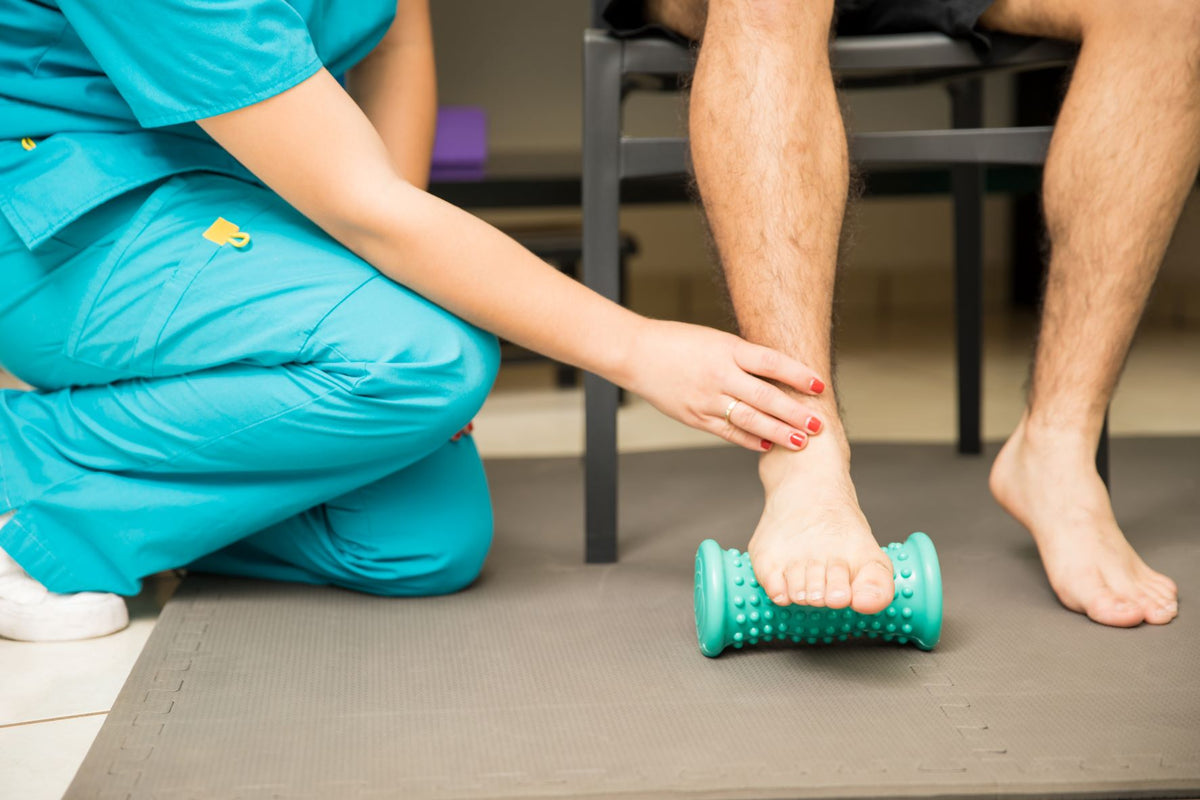 More than 2 million Americans suffer from regular heel pain due to plantar fasciitis. 
If you're one of those 2 million Americans, then you are familiar with the stabbing, burning pain that occurs in the heel of your foot, most often in the morning.
Plantar fasciitis is an orthopedic condition that's caused by damage or inflammation of the plantar fascia. The plantar fascia is the ligament that connects your heel to your toes. When the plantar fascia becomes damaged or inflamed due to wearing the wrong shoes, obesity, or injury, intense heel pain occurs.
Plantar fasciitis can occur in anyone at any time but women, obese people (or pregnant women), and older adults between the ages of 40-70 are most at risk. While plantar fasciitis can heal on its own over time, oftentimes it can be a chronic or recurring condition. Various physical therapy exercises (such as stretching), rest, and medications to reduce pain are used for treating symptoms of plantar fasciitis.
Additionally, wearing comfortable footwear and other foot care accessories can help to reduce pain caused by an inflamed plantar fascia.
Below, are 10 of the best products to help reduce plantar fasciitis pain.
When purchasing footwear for plantar fasciitis, you need shoes that offer enough cushion and arch support. The HOKA Bondi 7 are made for everyday footwear for anyone but are especially convenient for those who suffer from foot pain.
These shoes have a thick EVA midsole that provides extra cushion between your foot and the ground. It also incorporates Meta-Rocker technology that helps keep the pressure off your heel as you walk or run. The HOKA Bondi 7 uses memory foam cushioning to conform to the shape of your foot. And the extra plush collars work best for people with narrow heels.
Besides rave reviews from customers who swear by these shoes for relieving chronic foot pain, they have the American Podiatric Medical Association (APMA) Seal of Acceptance. The seal means that the Bondi 7 shoes are recognized by APMA podiatrists to be beneficial for foot health.
The Hoka Bondi 7 shoe fits wide with a narrower heel. It works well for most people for everyday wear, especially if you are on your feet a lot. Some people may find them too clunky and they might fit too wide for narrower feet. Overall, the Hoka Bondi 7 is one of the best everyday shoes for those who suffer from plantar fasciitis.
One major rule to follow to prevent plantar fasciitis pain is to never go barefoot. When you walk barefooted, your feet have no arch support. Without arch support, it's more difficult to maintain the plantar fascia and prevent micro tears. Having no cushioning between your foot and the hard ground puts more pressure on your plantar fascia, causing more pain.
Comfortable slip-on sandals are ideal for use indoors. Having a pair of slip-on shoes waiting for you beside your bed makes nighttime trips to the bathroom less painful on your feet. The Oofos Oolala Sandal are specifically designed for athletes recovering from overtraining. 
They are made from unique, patented foam technology that absorbs 37% more impact than other footwear. The footbed is designed to relieve stress on the ankles, knees, and other joints when walking.
You can wear your Oofos Oolala sandals indoors, outdoors, or even in the shower. They are ultra-thick and plush without being too chunky. But make sure you order a size up. The most common complaint with these sandals is that they run small. Check the website's size guide before purchasing your Oofos Oolala Sandals.
3. Best Natural Pain Reliever Supplement:  

PodiVite
Natural supplements such as turmeric, bromelain, collagen, and glucosamine (to name a few) have been shown to be greatly beneficial in reducing inflammation and pain associated with plantar fasciitis.* Supplements are a natural and safe way to ease foot pain without the risk of harmful side effects that can occur with taking prescription drugs.*
Certain natural supplements can help to ease chronic inflammation. But purchasing the right supplements involves finding the right formula of these ingredients in the right dosage. Because the supplement industry is not regulated by the FDA, consumers must be wary of where they purchase from. Many supplement companies falsely advertise their products so consumers can't be sure what they are getting. 
PodiVite, by Zen Nutrients, is an all-in-one natural supplement product formulated specifically for easing plantar fasciitis pain.* It contains 23 different pharmaceutical-grade vitamins, minerals, and herbs that are scientifically backed to support chronic foot pain.*
Zen Nutrients is a natural supplement company that follows good manufacturing practices and produces all of their products in FDA registered labs.
PodiVite works by providing the right nutrients to help strengthen ligaments and reduce inflammatory pain.* It's also GMO and gluten-free and carries with it minimal to no side effects.* It's the best natural supplement on the market for naturally helping to relieve foot pain.*
Pain relieving medications like NSAIDs (such as aspirin or ibuprofen) are commonly used to treat inflammatory pain caused by plantar fasciitis. While these OTC medications help to temporarily relieve pain, they are not recommended for long term use.
Both OTC and prescription pain medications should only be used short term to prevent liver damage. This makes them an inadequate treatment for those who suffer from chronic plantar fasciitis pain. However, topical treatments, like Voltaren Arthritis Medicated Gel, provide pain relief while being safer to use long term. 
Voltaren Arthritis Medicated Gel targets the inflammation in your heel to lessen pain. It works best on smaller, more condensed areas of pain, like the plantar fascia itself. 
The medicated gel uses topical NSAIDs to relieve inflammatory pain associated with arthritis and plantar fasciitis. It's a non-greasy formula that feels just like a regular lotion rubbed into your skin. It's easy to use as it can be applied by yourself and used during self massage. Although the pain relief is short lived, much like OTC oral NSAIDs, it's safer for use with chronic plantar fascia pain. 
For intense chronic plantar fasciitis pain, you might consider a prescription pain cream. Pharmacy compounded medications are personalized for the patient using them.
They include high quality prescription ingredients formulated in correct strength and dosage for the patient's requirements. The prescription compounded cream for plantar fasciitis from Family Pharmacy is a topical treatment that penetrates deep into the skin to reduce inflammation and pain. 
It combines the use of topical verapamil, which reduces the size of and slows down the growth of fibromas. The cream also uses the NSAID diclofenac to reduce pain and inflammation, gabapentin to desensitize nerve endings, lidocaine to numb the focal pain site, and menthol to cool and desensitize pain in your heel.
Compounded creams can be applied like any other cream by massaging it directly into the pain site. However, compounded cream must be prescribed by a physician and may take 6-8 weeks to see best results.  
Rolling sore feet over a tennis ball is commonly suggested for athletes and people with plantar fasciitis for helping to massage, lengthen, and stretch the ligaments in the foot, toes, and arch.
The Theraband Foot Roller provides the same benefits but with extra ridges that provide more massage pressure and firmness. Rolling your feet helps with loosening the plantar fascia ligament as well as other muscles in the foot. 
The firmness of the Theraband Foot Roller offers continuous compression to the foot, enhancing its massage capability. It's also easy to use and store and can be stored easily under your desk at work for a stealth plantar fascia massage.
The foot roller can also be frozen to combine cryotherapy with massage. Foot rollers help to relax sore and tired feet after a long day of walking or standing. It works best to provide pain relief when used with a topical plantar fascia pain relief cream.
Orthotic shoe inserts can help add support to shoes you already own. They are a great counter solution to purchasing shoes specifically designed to help with plantar fascia pain.
Tread Labs Pace Insole Kit is a custom insole kit made specifically for your feet. The insoles provide firm support for your arch and a deep heel cup for decreasing impact, improving stability, balance, and reducing foot pain.
Each kit includes 3 styles of insoles for use in different types of footwear.  Tread Labs Pace Insoles are specific to your shoe size, which few insert brands offer.
They are made to stay in place comfortably throughout the day. Unlike lesser quality inserts which move about while you walk, run, or jog. While the inserts are pricier than their competition, you get what you pay for.
Tread Labs Pace Insole Kit is top tier for providing high arch support and heel cushioning. However, orthotic inserts will need to be replaced every so often as their padding will eventually break down. But for temporary, everyday relief, inserts work well without the need for purchasing new shoes.
A foot rocker is like a rocking chair for your foot. You place your foot flat on the foot rocker and gently rock it forward and back. The rocking motion helps to evenly stretch your foot to relieve pain and improve circulation.
It also helps to isolate your lower leg muscles, ligaments, and tendons for a deeper stretch. The Vive Foot Rocker is ergonomically designed to reduce foot and heel pain by encouraging correct foot posture for effective stretching while increasing the range of motion and flexibility in your plantar fascia. 
The Vive Foot Rocker is also beneficial for decreasing pain in the leg and back. Because stretching is essential to any plantar fasciitis treatment plan, a foot rocker can help you stretch more effectively.
The Vive Foot Rocker is small and convenient enough to be used nearly anywhere. It features a non-slip rubber base that doesn't slide when used on any surface. The angled foot plate was designed to encourage ideal foot posture and is also useful for ankle strengthening. And with a lifetime money back guarantee from Vive, you can't go wrong in giving this product a shot. 
Compression socks work by applying gentle pressure to the foot and plantar fascia. The pressure provides support and helps to stimulate blood flow in the affected area. The movement of blood and oxygen to a painful and inflamed plantar fascia helps to stimulate healing and reduce pain.
Bitly Plantar Fasciitis Compression Socks offer arch support and apply pressure directly to the plantar fascia. The toeless socks are multifunctional and can be worn all day whether you're at the gym or hanging out at home. They're made from moisture wicking fabric that dries sweaty feet quickly. 
Bitly Plantar Fasciitis Compression Socks work for relieving a range of foot pain conditions such as bone spurs, Achilles tendonitis, and of course, plantar fasciitis. Though most reviews for this product rave about their effectiveness, be sure to check the size chart before purchasing.
Compression socks should fit snug on your feet for optimal effectiveness. However, they should not fit so tightly that they cut off circulation to your foot. Toeless compression socks are an inexpensive, everyday use treatment for relieving pain and inflammation associated with plantar fasciitis. 
A night splint for plantar fasciitis helps to keep your foot stretched in a more comfortable position all night long. The prolonged stretch alleviates pain from plantar fasciitis, Achilles tendonitis, and other foot pain conditions.
Huninpr Upgraded Plantar Fasciitis Night Splint keeps your foot at a flexed 90-degree angle all night long. It's made from bendable aluminum and soft foam padding that allows you to adjust the instep from 90 to 85 degrees for your comfort level.
Plantar fasciitis can cause burning, stabbing-like pain that intensifies after a long day of standing or walking. The discomfort can be so great that it disturbs your sleep pattern. 
Night splints help to immobilize and gently stretch your foot in a secure position continuously all night long. Meaning pain relief while you sleep. In addition to the night splint, your purchase from Huninpr also includes a foot massage ball, elastic bandage, arch supports, and travel bag.
You can use your night splint at night or any time of the day when you need pain relief from an inflamed plantar fascia. 
Lifestyle Adjustments for Plantar Fasciitis Pain 
Treating plantar fasciitis should be a multi-faceted approach. If you are experiencing chronic foot pain, you should first identify the cause. Obesity can contribute to plantar fasciitis and foot pain conditions because of the extra weight placed on your tendons and ligaments in the feet. If you are overweight or obese, make healthy lifestyle changes to your diet and exercise to lose weight.
Another common cause of plantar fasciitis includes wearing improper footwear such as high heeled or restrictive shoes. It's important that you wear proper footwear if you are experiencing any pain in your feet. Continuing to wear improper footwear will only worsen your symptoms of plantar fasciitis. Look for shoes that are non-restrictive and provide enough arch support and cushion for your plantar fascia. 
Certain physical activities or sports like dance or long-distance running can contribute to plantar fasciitis pain. If you participate in such activities or sports, limit your involvement, or choose another less impactful sport. Continued applied pressure to your plantar fascia increases your chance of injury over time by creating micro tears.
To prevent further damage, allow your feet to rest and heal properly. Apply ice pads to the affected part of your foot to reduce swelling, inflammation, and pain. And stretch the arch of your foot often to keep the plantar fascia flexible. These at home treatment methods practiced alongside using other treatment methods for plantar fasciitis will greatly improve your symptoms and heal your feet faster.
The Best Plantar Fasciitis Products: Bottom Line
Plantar fasciitis is a painful condition that affects millions of Americans. If you are suffering from plantar fasciitis, it's important to learn the best ways to care for your feet.
Topical and oral treatments, supplements, and products designed to specifically target plantar fascia pain will improve your pain symptoms. Treating plantar fasciitis involves using a multi-faceted approach to manage pain symptoms and heal the plantar fascia.
By taking proper precautions and providing consistent self-care to your feet, plantar fasciitis can be healed much more quickly.
*These statements have not been evaluated by the Food and Drug Administration. These products are not intended to diagnose, treat, cure or prevent any disease.