01st February 2022
10 Best Acne Products: Cleansers, Creams, and Supplements
Dr. Devan Patel, PharmD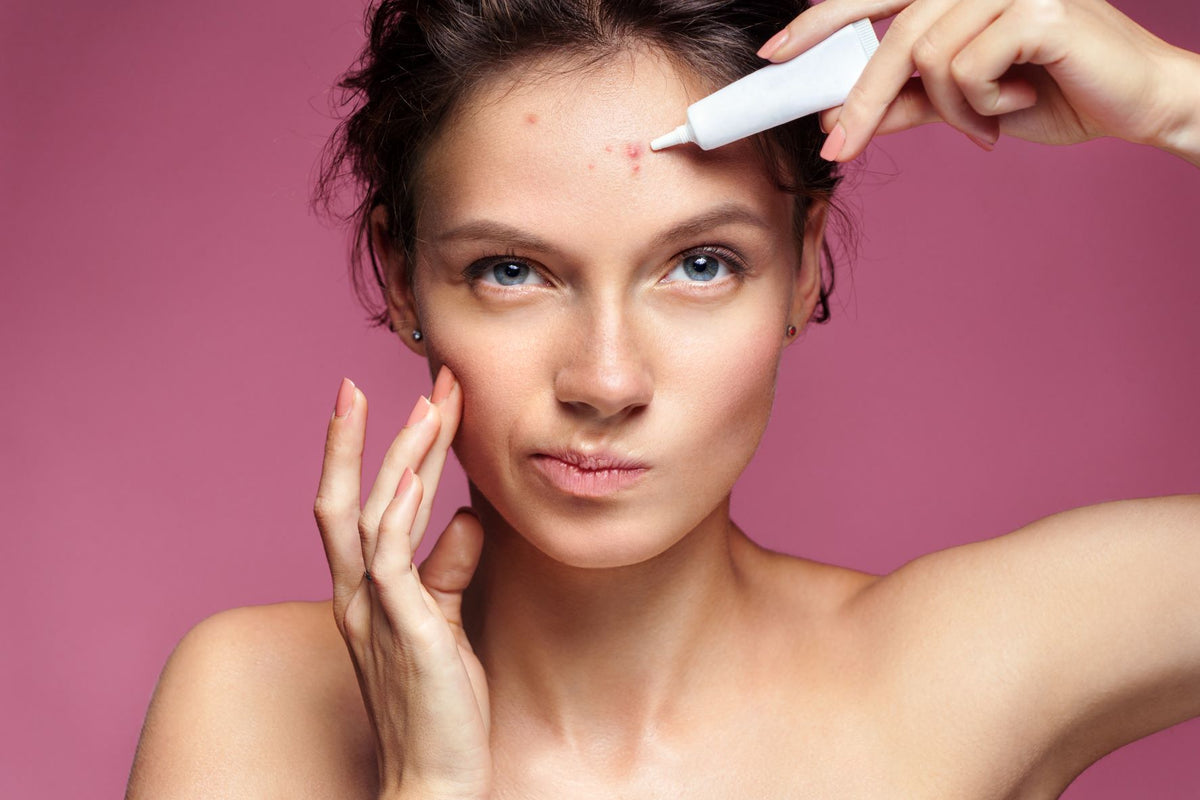 About 80 percent of the people in the United States alone live with acne, and it is said that about 10 percent of the worldwide population deals with the chronic type of this condition.
We are all taught that pimples are normal during our teenage years and that they will go away on their own as soon as we reach our 20s, but that is not always the case.
Some people live with their condition well in their 30s and 40s, and there are many causes for it. Many of us have tried anything and everything to deal with it, but it seems to be to no avail.
Luckily, as the whole world is improving, we are able to purchase products that will help deal with our skin condition without having to spend thousands of dollars on just a simple treatment.
However, there is so much choice on the market right now, that it is difficult to choose which ones are the things that are going to bring relief, and which products can do more damage than good. If you are looking for the goods that will help you get rid of your skin problems, you've come to the right place.
Keep on reading to discover the 10 best acne products including cleaners, creams, treatments, and dietary supplements.
This brand has become extremely popular in the skincare world for years and it is still one of the leading companies when it comes to battling skin conditions. If you have any problems with your sebum, if your dermis gets oily too much, and if you cannot get rid of stubborn pimples or blackheads, this is the brand you want to go with.
There are a lot of different products under their name, and no matter which one you choose, you will not regret it. It is gentle and made for those with sensitive dermis, and you can use it several times per day without any problems.
The foaming cleanser will clean and soothe your face, and you will notice the difference in just a few weeks. It is fragrance-free so it is perfect for those who want to protect their skin without having to feel any additional scent.
If you are battling with dry dermis combined with acne, then we understand your pain. The combination may seem impossible because we are all taught that oily skin leads to pimples, but in reality, this is not the case. You can have a really dry and sensitive dermis, and you may still have an issue with acne.
So, if you are looking for a product that is not going to cause even additional dryness, and if you want something that will help you combat your condition, then this cleanser gel is the one you should be going for.
It is great for gently exfoliating the surface of your epidermis and getting rid of sebum problems without causing irritation or inflammation. You will even out your skin tone without drying it too much. However, this is not a product that is recommended for those with oily complexion because it may lead to clogged pores.
Those who are living with oily epidermis know that finding a product that will get rid of the excess oil without making the dermis so dry. We try to battle one condition and we end up with something even worse, so choosing something that will help you remove the oils without damaging your skin is a must.
The creamy wash from this collection is exactly the product that you need if you have this type of complexion. However, this is not a product that is recommended for people with dry or sensitive skin because of the benzoyl peroxide that is one of the main components in the wash. When cleansing your face with it, be careful and try not to use it more than once per day. It should be safe for everyone to use, but remember that if you feel that your dermis is getting too tight or if it becomes too dry, you need to use it only several times per week and combine it with nourishing cream.
La Roche Posay - Effaclar Adapalene Gel 
When it comes to serious conditions, and people who are battling acne for a long time without anything else helping, we all know that retinoids are the components that will make a miracle happen. They are not recommended for people with easy to mild conditions, and they are only prescribed for those with inflamed sebum and individuals who don't see any relief from traditional and gentle products.
The adapalene gel is backed up by professionals and dermatologists and it will help you not only clear your skin, but it will also prevent any new problems from arising.
Note that if you choose to use it, it is best to talk to your doctor first and see if it is something that is the right product for your condition. Make sure you do a patch test beforehand, and if you have never used retinoids before, you might want to start slow, by using this gel no more than once per week to let your dermis adapt to it.
Now let's talk about something that will help you heal from within. Even though SkinVite is not a topical cream, it is best used when combined with a product from the tropical acne niche. Know that when you combine goods that will impact your dermis from inside and outside, you will get the best for your skin.
This supplement will help you remove toxins that usually lead to acne, and it will help you reduce skin inflammation. It is packed with vitamins, nutrients, and herbs that will help you get rid of and prevent pimples and blackheads, and it will be beneficial for the good of your overall epidermis.
It is safe, effective, and can be combined with products that help nourish your dermis. This supplement is great for providing both long and short-term effects and you will notice the difference in how your dermis feels pretty quickly after you start using the supplement. You will see a drastic change in just a couple of months, and you can notice the effects even faster if you combine it with other products that will help reduce your breakouts.
If you are looking for a well-rounded product that contains all the good things that will soothe inflammation, help reduce breakouts, and prevent new acne from forming, then you should check out this gel. It is made with niacinamide, salicylic, and azelaic acid, and it can help anyone improve the way their dermis is.
It is also extremely beneficial for people who have clogged pores and those whose skin is prone to getting oily. It will also reduce any swelling and redness that come with breakouts and it will make you look better even during the process of clearing the acne.
You won't have to wait for a long time to notice the results, and it is overall a really versatile and good product. Know that in addition to all this, the azelaic will prevent any bacteria from being stored in your pores and it will lead to your dermis staying clear as long as you use the product regularly.
Now let's talk about another item that is made only for those who are battling a serious skin condition and that cannot find their solution in the traditional creams and gels.
This product is known for its distinct scent, and it is definitely not something that everyone can use. It smells like sulfur or eggs, and you need to check if you are too sensitive to the scent before you purchase this treatment. If you can get over how the product smells, you should know that it is going to be extremely beneficial for your dermis.
It is made to fully dry the pimples and breakouts, but it is not something that you want to use on your whole face. It is best used on one area over the pimple, so if you are having breakouts on larger areas on your face and body, then you may want to try something else. Note that this is a leave-in treatment and it is best used at night before bed.
If you are looking for a product that will help you not only to clean your epidermis but also to soothe the skin, then this hydrating gel is the right one for you. There are many skin conditions that come because of dry skin, and people with oily dermis tend to forget that they need to keep their bodies and faces hydrated as well. It is made with items and herbs like chamomile that will soothe any inflammation that comes with breakouts and it will help reduce the redness and swelling around the area.
It is an extremely light product, so you won't have to worry about it feeling heavy on your skin even after you put your makeup on. You can use it under other products and you can combine it with foundation and CC creams if you want to improve the look of your skin while still concealing the issues when you are outside.
For those who are looking for a versatile item that will help them conceal the imperfections, protect from the sun, and a product that will help battle with breakouts, then this CC screen is the right thing for you.
One of the main ingredients in this product is zinc, and if you know anything about creams that contain it, you probably already know that it is the best compound for calming irritated skin and soothing inflammations. You can use this product every day when you go out if you are looking for something light, and easy to apply, and you won't have to worry about layering too many things that may clog your pores.
One thing that you should know is that the CC screen provides only some coverage, just like other CC creams on the market, and if you are looking for a full coverage foundation, then you might want to look for another product. It has 50 SPF which means it is suitable for winter and hot summer days. It will hydrate your skin; help combat breakouts and it will calm and soothe it.
The last product on this list is something that will help you clean your skin, keep it hydrated, and at the same time get rid of your condition. It combines salicylic acid with rice bran and honey to make sure that it is going to be gentle on your face, and at the same time, it will remove all the dirt stored in your pores.
Another great thing about it is that it doesn't just rely on peeling like many of the other goods you can see on the market, instead it focuses on getting your dermis cleansed. It battles the issues from within without doing more damage than good.
It is good for everyone, no matter your skin complexion, but you should still always do a patch test and see if your epidermis reacts properly to it. If you notice any inflammation, stop using it right away.
10 Best Acne Products Take Away Message
These are the top 10 acne products that you may want to try. Just like with every other product, you should look for goods that are made for your complexion, and you should always give them time to work.
Don't expect results after just a day or two of using them, and know that you have to be persistent if you want to notice a difference.
In case you want to combine more than one of these goods, check if their components can be used with each other, and if needed, consult with a professional before you try new things out.
Do a patch test in case you are using a new skin product, and if you notice any redness or inflammation consult with your dermatologist right away.
All of these items are recommended by users and experts alike, and they should not pose any risk to your skin. However, be careful, see how your dermis reacts to them, and know that with the right product your skin will become clean and clear.
Our best valued product for efficacy and cost is SkinVite.