01st April 2022
The Best Supplements for Healing After Surgery – Rated by Doctors and Pharmacists
Dr. Devan Patel, PharmD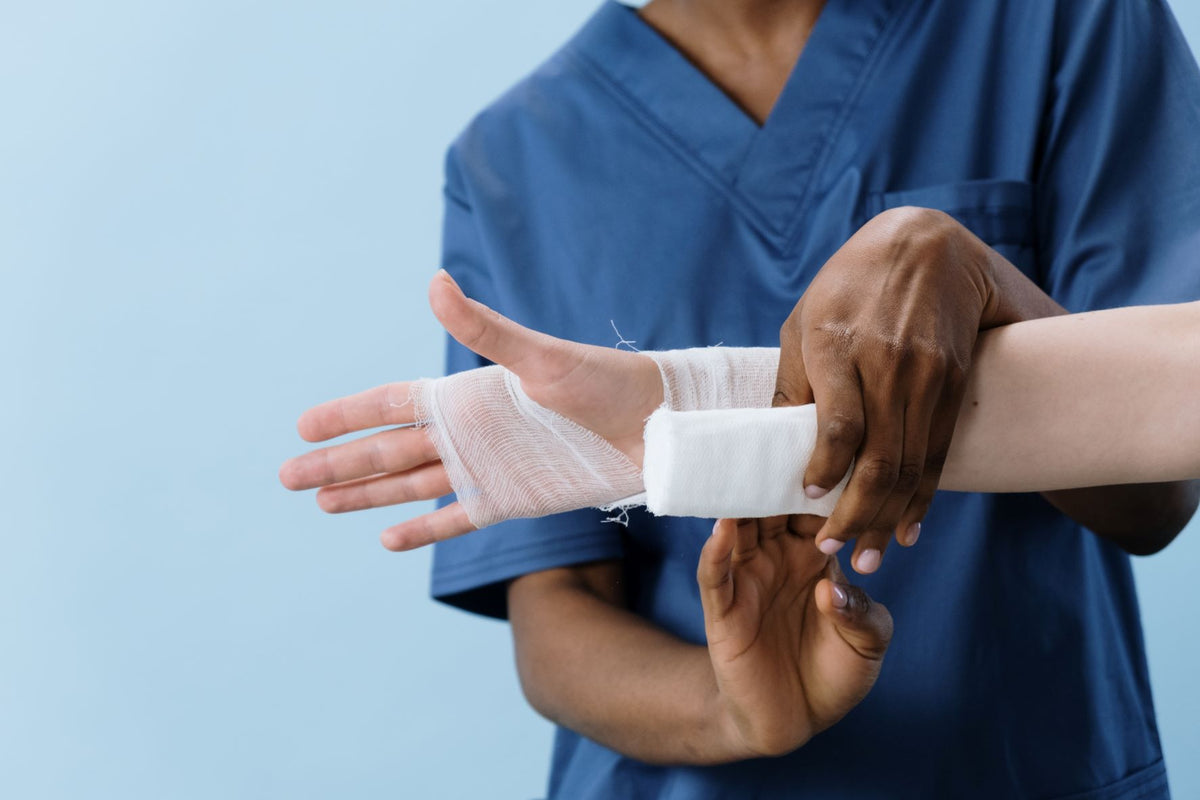 Recovering from a surgical procedure can be a painstakingly slow process. The body takes time to heal itself, especially after difficult surgery. As we age, the healing process can take even longer due to our bodies inhibited cell regrowth capability and weakened immune system.
Rest, time, and proper wound care practices are seen as the best remedies for healing wounds post-surgery. The role of nutrition in wound healing, however, is often overlooked. Nutrition plays an important part in the healing process for controlling inflammation, providing the necessary nutrients to rebuild and restore damaged tissue, preserve muscle strength, and decrease the risk of muscle atrophy. 
Without proper nutrition, the body doesn't have the energy or resources to heal itself. Unfortunately, malnourishment is common, even in Western society, because of the lack of nutrients in modern diets. The best source of nutrients is fresh foods like fruits, vegetables, and healthy fats, which most Western diets lack.
Old age and obesity also contribute to the body's lack of proper nutrient absorption. Research has shown certain nutrients to be especially helpful in restoring the body after injury. Increasing these nutrients before and post-surgery can lessen recovery time and heal wounds more quickly.*
The Best Supplements for Healing After Surgery
Wound care supplements are nutritional supplements specifically formulated for healing injuries faster by increasing cell and tissue repair, while strengthening the immune system and staving off infection.* We've done our research and compiled a list of the seven best supplements for healing after surgery as rated by doctors and pharmacists.
Nutritional supplements pack all the necessary vitamins, minerals, and nutrients in easy to take pills, capsules, or powders. Supplements make getting proper nutrition more accessible and achievable for those who lack a proper diet or cannot absorb enough nutrients from food alone.
Our curated list of wound care supplements are chosen based on specific criteria as to how they measure up to other supplements on the market. We've comprised a list of pros and cons for each supplement to help guide you in your decision process of choosing the right wound care supplement for you.
Juven

Juven is a powder supplement formulated to be taken with liquid for easy and convenient consumption. It's packed full of vitamins and minerals, including Hydroxymethylbutyrate (HMB) and collagen protein, both of which support muscle and bone growth and prevent muscle tissue breakdown.
Juven is advertised as clinically proven to produce results in healthy elderly adults in as little as two weeks. Juven can be found at most chain drug stores as well as online at Amazon.com. Juven retails for a whopping $144 for a pack of 48 1 oz packages. 
Pros:
Juven contains important ingredients like HMB, collagen, arginine, vitamin C and zinc, all of which have been proven to increase wound recovery.

It's formulated in an easy to consume powder which comes in two tasty flavors as well as unflavored. For those who have difficulty swallowing pills, Juven's powder formula is an alternative

Juven is made by the Abbott laboratories, a well-established company who are the same makers of popular drink supplement, Ensure. 
Cons:
Along with important nutrients and supplements, Juven contains added ingredients like artificial flavors, aspartame, and yellow dye 6. Those with allergies or food sensitivities should be cautious before consuming Juven.

At $144 per box, Juven is on the pricier side of wound care supplements. With the recommended dosage of two packets per day, the 48 packets per box won't get you very far. 
Juven's Listed Ingredients:
L-Glutamine

HMB

Vitamin C

Zinc

L-Arginine

Vitamin B12

Vitamin E

Calcium

Hydrolyzed Beef Collagen

Natural And Artificial Flavors

Aspartame

Yellow 6
VitaMedica  
VitaMedica Clinical Support Formula for wound healing is a clinical based supplement backed by science. VitaMedica is a well trusted company founded by medical doctor and author, David H. Rahm M.D.
VitaMedica's formula consists of an impressive number of vitamins, minerals, and antioxidants that support immune system function, promote collagen formation, and support protein synthesis. A one-month supply of VitaMedica Clinical Support Formula retails for $48 on the VitaMedica website and goes for $64 on Amazon. It's available from other online retailers for varying prices. 
Pros:
Physician based formula from well trusted supplement retailer

Extensive ingredient list of science backed vitamins and minerals for wound recovery and immune system health

VitaMedica's website shows rave reviews from verified customers about the supplement's efficacy

Moderately priced at $48 for one month supply on VitaMedica website 
Cons:
The recommended dose is 3 tablets in the morning and 3 tablets in the evening. Six tablets daily may be difficult for some people to consume, especially those with problems swallowing pills.

Available only from online retailers but pricing isn't consistent. 
VitaMedica Clinical Strength Formula Listed Ingredients:
Vitamin A

Vitamin C

Thiamin

Riboflavin

Vitamin D

Niacin

B-Complex Vitamins

Calcium

Pantothenic acid

Choline

Magnesium

Zinc

Selenium

Copper

Manganese

Chromium

Potassium

Molybdenum

Citrus Bioflavonoid Extract

Inositol

Boron 
HealFast
HealFast is a wound care formula made specifically for treating surgical patients pre- and post-op. The formula contains ingredients that work to reduce swelling, inflammation, pain, and scarring.
HealFast claims to accelerate wound healing by up to 50% and resorption of bruises and hematomas. It's packed full of 30+ different ingredients that were selected to aid in recovery while minimizing interactions in the perioperative and peri-injury period.
HealFast has two specific formulas that work best when taken together pre-op and post-op. Both formulas can be bought together for $119.95 regular price or separately at $80 for the post-op formula and $40 pre-op formula.
Pros:
Contains 30+ vitamins, minerals, and other nutrients scientifically proven to be efficacious in wound recovery.

Products come with rave reviews from over two thousand customers.

Made by a well-trusted company under the direction of physicians and nutritional specialists.
Cons:
Slightly misleading product advertisement. Both formulas contain nearly identical ingredient makeup and dosage, the only difference being the number of capsules per bottle.

Recommended dosage is 5 capsules twice daily, giving you only 10 servings per bottle for the $80 post-op recovery formula.
HealFast Listed Ingredients:
Vitamin A

Vitamin C

B-Complex Vitamins

Magnesium

Zinc

Selenium

Copper

L-Arginine

L-Glutamine

Bromelain

Citrus Bioflavonoid Complex Powder

Quercetin

Probiotic Vegan Blend
Vitanica Opti-Recovery
Vitanica Opti-Recovery is a capsule nutritional supplement made for healing support in post-op patients. Its main ingredients focus on repairing injured tissue in the body and reducing scarring. Vitanica was formulated by naturopathic physician, Tori Hudson, who has specialized in women's health for over 34 years.
Though Vitanica is marketed towards women for help recovering from female care related procedures, the supplement works just as well for men. Vitanica is made from quality ingredients that are free from common allergens for food sensitive people.
The ingredients include both vitamins and minerals as well as specific natural herbs that have been shown to enhance immune system function and recovery. Vitanica Opti-Recovery sells on Amazon for $29 a bottle at 3 capsules per recommended serving with 20 servings per bottle.
Pros:
Natural, allergen free ingredients formulated to support tissue regrowth and reduce scarring.

Formulated by a veteran naturopathic physician with over 34 years' experience in women's health.

Less expensive than many other wound care supplements on the market.

Scores a 4.5 out of 5 stars in customer reviews on Amazon.com
Cons:
Vitanica Opti-Recovery contains far less helpful vitamins, minerals, and herbs than other similar supplements.

It contains vitamin K, which interferes with some prescription drugs like Coumadin and Warfarin. Vitanica Opti-Recovery may not be suitable for some people based on their current prescription medicine intake.
Vitanica Opti-Recovery Listed Ingredients:
Pro-Vitamin A (as natural mixed carotenoids)

Vitamin C (as calcium ascorbate, buffered)

Calcium(carbonate), Vitamin D-2(ergocalciferol)

Vitamin E

Vitamin K-1(phylloquinone)

Zinc (as picolinate)

Bromelain

Citrus bioflavonoids

Echinacea root-Echinacea augustifolia

Echinacea root-Echinacea purpurea

Vegetarian capsule (cellulose, water)

L-leucine

Silica
MEND
MEND powder nutritional supplement is fortified with proteins and essential vitamins and minerals to help heal soft tissue and rebuild cartilage and bones faster. It's ideal for people who suffer from frequent sports injuries and those recovering from surgery. Its key ingredients include whey protein, vitamin D, and calcium for supporting bone and muscle strength.
MEND also contains key ingredient turmeric (curcumin) which acts as a powerful anti-inflammatory. It may also be used as a pre-workout supplement to help reduce athlete's risk of sports related injury. MEND is both gluten free and non-GMO. It sells for $65 on Amazon for 30 servings per container.
Pros:
Powder form makes the supplement easier to consume for people who have difficulties swallowing pills.
Contains powerful anti-inflammatory ingredients and whey protein, which helps build and maintain muscle
Ideal for athletes pre-workout and post-injury recovery
Decently priced for a one month supply
Cons:
Mend contains added ingredients like natural sweeteners and milk which may be unsuitable for some consumers.

It's only available in citrus flavor, making it not ideal for those who prefer tasteless powder supplements.
MEND Listed Ingredients:
Leucine

Vitamin C

Turmeric

Bioperine

Boron

HMB

Calcium

Zinc

Whey Protein

Vitamin D

Glutamine

Iron

Vitamin A
ABINTRA
ABINTRA contains a combination of vitamins, minerals, and amino acids that are clinically proven to promote healing of wounds such as pressure ulcers, diabetic foot, and surgical incisions. It's formulated with specific nutrients like l-arginine, glutamine, and whey protein to promote tissue synthesis and repair.
ABINTRA helps patients meet their nutritional needs while recovering from surgery or injury. The supplement comes in powder form that can be easily added to juice, milk, or other non-carbonated beverages for quick consumption. It's available on Amazon at $26 for a box of six servings.
Pros:
Powder formula supplement for people who dislike swallowing capsules and pills.

Unlike most powder supplements, ABINTRA is sugar free

Available in smaller serving sizes for customers who wish to try the product before committing to making a big purchase.

Contains whey protein, which helps build and restore muscle and bone.
Cons:
Contains allergens such as milk and soy in formula

More expensive per serving compared to other wound healing powder supplements.

Not vegan, making it unsuitable for people with special dietary needs
ABINTRA Listed Ingredients
L-Arginine

L-Glutamine

Whey Protein Isolate (with less than 2% Soy Lecitin)

Maltodextrina

Citric Acid

Natural Flavors (Orange)

Vitamin A Palmitate

Beta Carotene

Ascorboc Acid

Sodium Selenite

Sucralose

Dl-Alpha-Tocopheryl Acetate

Acesulfame Potassium

Zinc Sulfate

Copper Gluconate

Pyridoxine Hydrochloride

Cyanocobalamin
WoundVite
WoundVite is an all-in-one nutritional supplement formulated for accelerating the wound healing process after surgical incisions.* WoundVite is made by Zen Nutrients, an all-natural supplement company founded by veteran clinical pharmacists, physicians and nutritionists. Zen Nutrients mission is to provide effective and safe nutrition supplement products made from all natural ingredients.*
WoundVite contains 21 powerful and carefully chosen vitamins, minerals, and herbs that are backed by science for promoting wound recovery.* The unique formula was designed to support wound recovery through the different healing phases in the body.*
Each potent natural ingredient included in WoundVite is clinically dosed for most efficacy.* WoundVite retails at $43 on the Zen Nutrients product website and can also be found on Amazon.
Pros:
#1 most comprehensive oral formula 

Natural, non-GMO, vegan ingredients

Uses select bioavailable and organic ingredients 

Serving size is 2 capsules daily, much less than similar capsule products

Moderately priced for one month supply

Formulated by physicians, nutritionists, and clinical pharmacists

Potent clinically dosed ingredients

Highly rated 4.5 out of 5 stars on Amazon.com

No added ingredients or allergens
Cons:
Pill capsules may be difficult to swallow for those who dislike swallowing pills

Does not contain dietary forms of protein, which may be preferential for some customers
WoundVite's Listed Ingredients:
Vitamin A (as Beta-Carotene)

Vitamin C (as Ascorbic Acid)

Vitamin D3 (as Cholecalciferol)

Vitamin E (as D-alphatocopheryl Succinate)

Vitamin B12 (as Methylcobalamin)

Biotin, Iron (as Ferrous Fumarate)

Selenium (as L-Selenomethionine)

Bromelain

L-Arginine

L-Glutamine

Copper (as Cupric Oxide)

Zinc (as TRAACS Zinc Glycinate Chelate)

Chlorella

Calendula

Grape Seed Extract

Organic Turmeric Powder (Curcuma Longa)

Hyaluronic Acid

Arnica Montana

Lactobacillus A.

Saccharomyces B 
Why Are These the 7 Best Supplements for Surgical and Wound Healing?  
The nutritional supplement industry is inundated with products that make claims to heal everything from depression to cancer. Because the supplement market is not regulated by the FDA, there is no real way of knowing which products are effective, let alone what's in them.
As a consumer, you must be hypercritical of supplement brands that make claims "too good to be true." If it sounds like a product is nothing short of a miracle, it's likely false advertising.
In addition to being misled on a product's potential benefits, many supplement brands lack transparency over their ingredients. Supplements made in countries outside the United States should be especially avoided as there are even less regulations in some foreign countries. It's not uncommon to find supplement brands who are dishonest with their ingredients or the potency of their ingredients. 
For this reason, we carefully selected each of the 7 best supplements for surgical and wound healing based on consumer safe qualifications. Our criteria include effective ingredients and formulas, accurate dosages, reputation of the brand, honest promotion, transparent labeling, medical advisory board, and expense. 
Ingredients and Formula 
We chose each supplement best for wound healing based on the ingredients in their formula and the quality of those ingredients. Each of the ingredients used in our list of 7 best supplements for surgical and wound healing are scientifically backed for their effectiveness in tissue and skin cell repair, collagen promotion, anti-inflammatory effects, strengthening the immune system, promoting bone and muscle repair, and antioxidant benefits.* We also looked for supplements that used only natural vitamins, minerals, and herbs with very few added ingredients like sugars or allergens.
Dosages 
The ingredients in a nutritional supplement are only beneficial if they are provided in the right dosing. Your body needs the right nutrients to repair itself and enough of them to do so. Each supplement on our list of 7 best supplements for surgical and wound healing contains ingredients in clinical dosages that have been proven for safety and efficacy.
Transparent Labeling 
Transparent labeling of product ingredients, manufacturing process, and company info is an important factor to look for when choosing a supplement product. A legit company will provide the necessary information for customers to do their research. We chose supplement brands that had only the most transparent labeling and detailed information about their product on their website and packaging. Supplement brands that provide vague info on the details of their product or company are likely not the most reputable sources.
Honest Promotion 
Claiming a supplement provides miracles is a red flag for wary consumers. Brands that showcase "too good to be true" results are likely too good to be true. Our list of 7 best supplements for surgical and wound healing only contain products that provide honest promotion of the supplement's efficacy. These products contain ingredients backed by scientific research and studies. We made sure to steer clear of brands that promoted "instant results" or unfounded claims and benefits.
Reputation of the Brand 
Every supplement on our list of 7 best supplements for surgical and wound healing are made by established companies with a well-trusted reputation. These companies are based in the United States and use Good Manufacturing Practice, use FDA registered labs, and conduct third party testing on all of their products. Following these practices and procedures ensures quality, safety, and efficacy of the supplement products. A company will display proof of these measures through badges and certificates found on their website. Supplement companies that don't post these badges and certificates don't follow these standards.
Medical Advisory Board 
When curating our list of 7 best supplements for surgical and wound healing, we looked for products that were formulated under the guidance of a medical advisory board. Medical advisory boards for supplements consist of medical doctors, pharmacists, clinical nutritionists, and naturopathic doctors. A medical advisory board provides extra assurance that the supplement is dosed correctly and cross-checked with other ingredients for any potential harmful side effects.
Expense 
We took into consideration the expense of each of the 7 best surgical and wound healing supplements to find the best customer value. These supplements range in price for their value and amount included. We looked for supplements that would be affordable for every budget.
The Science Behind the 7 Best Supplements for Surgical and Wound healing 
Vitamin A:
Vitamin A is an essential micronutrient found in foods such as sweet potato, eggs, kale, squash, and carrots. Vitamin A, also known as retinal, retinol, and retinoic acid, helps to control the inflammatory response in the beginning stages of wound healing. It also helps promote the regrowth of skin cells and enhance the production of collagen, a key component to skin health. 
Vitamin C:
Vitamin C, commonly referred to as ascorbic acid, plays a key role in our immune system health as well as skin health. Vitamin C is a powerful antioxidant that helps protect skin cells from damage due to free radicals. It's also a required component for the synthesis of collagen, which is one of the building blocks of skin tissue. Studies show that Vitamin C can speed up the wound healing process by fighting inflammation and staving off infections that derail healing.
Vitamin D3:
Vitamin D is a necessary vitamin for overall health and wellbeing. Low levels of vitamin D have been associated with health problems such as chronic illness, depression, and brittle bones. Vitamin D plays a key role in building strong bones as well as in strengthening our immune systems. Our main source of Vitamin D comes from the sun, but it is also found in foods such as fatty fish, dairy, and fortified milks and cereals. Vitamin D aids in the healing process by strengthening immune function and promoting the growth of strong bones and skin tissue.
Vitamin E:
Vitamin E is used in many skin care cosmetics for its anti-aging properties, UV ray protection, ability to reduce the appearance of scars. Many of these benefits are attributed to vitamin E's powerful antioxidant properties that protect and neutralize harmful damage caused by free radicals. Vitamin E is used in wound care to treat sunburns and prevent scar tissue after surgery. It can be applied topically in the form of lotions or creams and can also be consumed through diet in foods such as nuts and vegetable oil.
B-Complex Vitamins:
B vitamins play an important role in helping the body convert carbohydrates into energy. Lack of B vitamins leads to fatigue as well as neurological problems. Studies correlate low levels of B vitamins to less responsive wound healing. Wounds heal faster with adequate levels of B vitamins, namely vitamin B12 and Biotin.
Iron:
Iron is an essential mineral that is needed for oxygen transport throughout the body. It's also necessary for the formation of hemoglobin and necessary to produce collagen. Iron deficiencies are associated with pale skin, fatigue, and brittle fingernails and hair. The role of iron in wound healing affects the later phases of the healing process. Increasing iron intake may help during the remodeling stage of wound healing when skin tissue is being restored.
Selenium:
Selenium is a micronutrient found in many nuts, fish, meat, and poultry. It has powerful antioxidant properties that inhibit cancer cell growth, protect cells from free radical damage, and repair damaged DNA. Selenium's antioxidant properties have been shown useful in wound healing, especially leg ulcers in diabetics. Selenium may help to improve skin tissue elasticity and tensile strength.
Bromelain:
Bromelain is an enzyme derived from the pineapple fruit. It's a natural anti-inflammatory that has been shown to improve bruising, swelling, and pain in post-op procedures. Bromelain has natural analgesic, anti-thrombotic, anti-inflammatory, anti-edematous, and exfoliation properties that may help accelerate the wound healing process. It's been used in topical treatments to reduce inflammation due to surgical wounds and as oral and burn care. As a dietary supplement, bromelain may be useful in accelerating wound healing and providing pain relief.
L-Arginine:
L-arginine is an amino acid that accelerates wound healing mainly by increasing collagen deposition in wounds. The amino acid has been shown to be especially beneficial in healing pressure ulcers through oral supplementation. L-arginine also plays a role in strengthening the immune system, which may also help to accelerate wound healing.
L-Glutamine:
L-glutamine is one of the most abundant and important amino acids in the body. Glutamine is one of the major building blocks for protein in the body and provides energy and DNA bases to proliferating cells. Glutamine is used in the body's healing process to rebuild skin cells and repair damaged tissue or bones. However, glutamine stores in the body can be quickly used up during the healing process. This forces your body to obtain glutamine from other tissue, like muscle. Therefore, it's important to restore glutamine levels after injury to prevent muscle loss. Glutamine supplementation has been shown to decrease recovery time in wound patients.
Copper:
Copper has been used in wound care dating back to the ancient Egyptians. This essential mineral has powerful antimicrobial properties that fight off tough to kill bacteria. It's used by the body to make energy, connective tissues, and blood vessels. Copper's antimicrobial properties and promotion of blood vessel formation helps to enhance wound healing.
Zinc:
Zinc is an essential micronutrient with both antioxidant and antibacterial properties that are beneficial in the wound healing process. Zinc plays a role in every phase of the wound healing process including membrane repair, coagulation, inflammation, immune defense, and scar formation. A deficiency in Zinc has been associated with slower healing wounds, therefore Zinc supplementation is often prescribed to wound patients to enhance healing.
Chlorella:
Chlorella is a nutrient dense alga that is most beneficial to wound healing because of its several types of plant sterols. These sterols help to inhibit inflammation of the skin, prevent prolonged allergies, and regenerate skin cells. Chlorella supports tissue repair and wound healing due to its powerful antioxidant and anti-inflammatory properties.
Calendula:
Calendula is an herb that contains high amounts of flavonoids. These flavonoids help to reduce inflammation and fight off bacteria and infections. Calendula is believed to accelerate the wound healing process by increasing blood flow to the wound site, thereby increasing the flow of oxygen and nutrients necessary for tissue regeneration. Used as an ointment or topical cream, calendula may provide relief for irritated wounds by reducing inflammation and swelling.
Grape Seed Extract:
Grape seed extract helps to heal wounds faster and prevent scarring in two ways; by helping the body regenerate damaged blood vessels and increasing the number of free radicals at the wound site. Free radicals, though often referred to negatively, help to clear pathogenic bacteria from a wound, preventing harmful infections which delay healing.
Organic Turmeric Powder (Curcumin):
Turmeric is a bright yellow-orange spice most popularly used in Asian cuisine. Its main bioactive component is curcumin. Curcumin is known for its strong anti-inflammatory and antioxidant properties which may help accelerate wound healing.
Hyaluronic Acid:
Hyaluronic acid is used by the body to cushion and lubricate joints and other tissues. This natural substance helps to maintain skin moisture, which can be helpful for healing wounds. Hyaluronic acid is involved throughout the entire process of wound healing including proliferation, migration, and tissue remodeling.
Arnica Montana:
Arnica Montana is a plant native to parts of Europe and Southern Russia. Its rootlets contain derivatives of thymol, which is known for its anti-inflammatory properties. Arnica Montana has been shown to help blood flow by opening blood vessels and assist in the wound healing process by transporting blood to the wound site. Many homeopathic practitioners use Arnica Montana for treating injuries for its ability to reduce swelling, control bruising, and promote recovery.
Probiotics (Lасtоbасilluѕ and Sассhаrоmусеѕ):
Probiotics work within the gut to regulate skin homeostasis. Skin homeostasis is altered during certain inflammatory diseases such as acne and psoriasis and when a wound infection occurs. Certain probiotics have been shown to be beneficial in the wound healing process by helping to reduce inflammation of the skin and fighting off harmful pathogens at the wound site.
Frequently Asked Questions (FAQs) about wound healing
What are the 4 stages of wound healing?
The 4 stages of wound healing are:
Hemostasis: Blood clot formation (30 min)

Inflammatory Phase: Damaged cells, pathogens, and bacteria are removed from the wound site by immune cells. Swelling, heat, and pain are commonly present. (4-6 days)

Proliferation Phase: Skin tissue begins to rebuild itself. (4-24 days)

Remodeling Phase: The wound is closed, and the original tissue is regenerated. (21 days-2 years)
Are supplements as good as food for getting nutrients?
Your main source of nutrients should come from your diet. However, nutritional supplements help to ensure you are getting proper amounts of necessary nutrients. Poor diet, old age, or certain health conditions can make it harder for the body to properly absorb nutrients from food. Therefore, nutritional supplements can be used as an alternative and aid in meeting nutritional requirements.
How to heal wounds faster naturally?
To heal wounds faster naturally, proper wound care techniques should be practiced as well as ensuring the wounded receive proper nutrition. Wound care techniques should include proper dressing, disinfecting the wound site to prevent infection, and elevation of the wounded body. Proper nutrition is also key to the body's natural healing process. A healthy diet rich in fruits and vegetables should be consumed along with nutritional supplements such as the ones mentioned on our list of 7 best supplements for healing after surgery.*
Are supplements safe?
Supplements are safe if you can ensure you are getting them from a reputable company. The supplement market is not registered by the FDA, meaning consumers must be wary of where they purchase from. By doing your research and ensuring a company is reputable and follows consumer safety protocols (like Good Manufacturing Practice, FDA registered labs, and third-party testing), you can find supplements that are safe and effective.
The best supplements for healing after surgery: Conclusion
Finding the best supplement for wound healing requires thorough research. Luckily, we've done the research for you. Nutrition plays a key role in our lives, especially during recovery from a wound or surgery. Though diet is important for getting the proper nutrients your body needs to operate, supplements make up for what your diet can't provide. All-in-one supplements like the ones we've included on our list make getting these important nutrients that much easier.
Choosing one of the 7 best supplements for healing after surgery comes down to your personal preference for which supplement works best for you. By taking charge of your nutrition and health, you are on track for a much speedier recovery.
* These statements have not been evaluated by the Food and Drug Administration. These products are not intended to diagnose, treat, cure or prevent any disease.